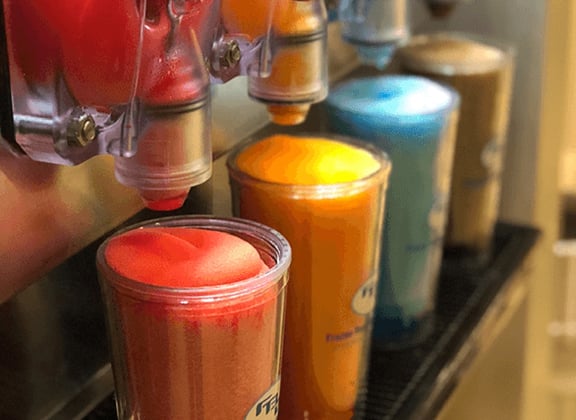 Frozen carbonated beverage machines are the easiest frozen machines to maintain. They ship from the factory sanitized and ready to use when they arrive. Just keep your syrups and CO2 filled and the exterior sanitized, and you're good to go for a full year. After that, a certified technician will have to shut down the machine once a year to do some routine preventative maintenance that will keep everything running smoothly, and then sanitize the inside again.
Slush and granita machines require more hands-on daily upkeep. Since the ingredients are mixed and frozen in an unpressurized open-bowl tank and none of the process is automated, they have to be mixed manually in the right quantities when they're added. Since they're not sealed from the outside world, the bowls also have to be emptied and cleaned out every day to keep them sanitary.
Smoothie and shake machines have maintenance requirements that are similar to the slush and granita machines. When you're working with dairy products, there are special precautions that need to be taken to prevent contamination, so they'll also have to be emptied, cleaned, and sanitized every day.
Besides the machines themselves, you'll also have to make sure you keep cups, lids, and straws in stock, empty drip trays, and make sure the non-slip mats around your machines are clean to keep customers and employees safe from slips and falls if there's a spill or a leak.