Having a variety of menu options makes a big difference when it comes to choosing a place to shop or dine. A recent study shows that having a good menu or food variety is the 4th most important factor consumers consider when deciding to visit a C-store to purchase food or even a beverage. Adding a frozen beverage program is a smart and easy way to expand your product offerings and lure in customers to purchase frozen drinks and other food items to accompany it. As you implement frozen beverage centers in your locations, here are some proven tactics that work to generate customer foot traffic and increase your overall sales.
Exterior Signage
Curb appeal is crucial for advertising frozen beverages. Since not all restaurants and C-stores offer a frozen drink product, make sure that you advertise this as customers are driving or walking by or are on the hunt for an icy treat. Eye-catching window clings, a-frame signs, digital screens and gas pump toppers can be visually impactful and effective at capturing customers' attention and drawing them in. Use vibrant visuals showing frozen drinks, add competitive price points, and showcase popular flavors to remind customers of your diverse product offerings and stimulate impulse purchases.
Digital Merchandising
Digital screens have changed the landscape of advertising, from billboards to mobile devices. Restaurant and C-store operators have started to use mounted TV monitors to promote particular products and specials. As customers are waiting in line or browsing through the aisles, these stimulating messages and graphics will certainly influence their purchasing behavior.
Commercial frozen drink machine manufacturers, who offer equipment with built-in video merchandising capabilities, provide operators with the ability to visually show either still or animated graphics promoting frozen beverages as well as other items in the store. The digital merchandising feature is a proven and great tool, particularly if your location frequently changes promotions and/or has a limited advertising budget. You can replace and add graphics remotely and reduce printing costs for traditional items such as posters and printed signage.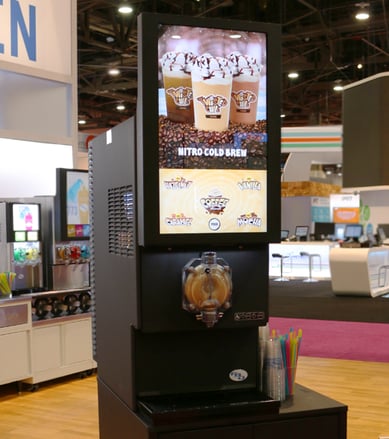 Loyalty Program
Loyalty programs are a tried and true technique to grow your volume from returning customers thereby strengthening their affinity and loyalty to your business. By offering an incentive after a certain number of frozen drink purchases (For example, buy 8 frozen beverages, get 1 free), you can give your customers something to look forward to and a reason to frequently visit your store and become a fan of your frozen beverage center. Keep your customers engaged with a traditional punch card system or take things digital with an online rewards program or even an app.
Tidy Beverage Center
This may seem like a no-brainer, but you will be surprised at the number of operators that neglect their drink stations. Spills, leaks and trash can create a messy environment that is uninviting for customers who are looking for a beverage. By maintaining a spotless frozen beverage center and keeping cups, lids and straws neat and readily available, you will attract drink purchasers and create an inviting counter for customers to enjoy. They will be more apt to return to an orderly, clean, and user-friendly environment.
Simple add-ons like a frozen beverage dispenser base cart with a storage cabinet and cup, lid, and straw dispensers can keep your frozen drink center looking presentable at all times.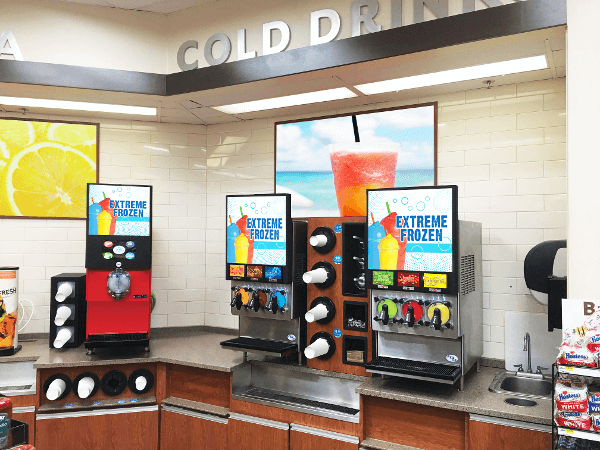 Reliable Drink Machines
If a customer sees that the out of service light on your commercial drink machine is frequently flashing, you may have just lost that customer. Customers value product consistency and expect the very best quality drinks every time they visit your location.
The best way to ensure that your equipment continuously pours high-quality beverages, even during peak hours, is to identify your business's needs and invest in a trusted manufacturer. For example, if you have high volume, you will need a dispenser that supports high capacity. Selecting the wrong equipment can dwindle your profit potential and create unsatisfied customers.
Having a good service provider and trusted technical support can also help save your profits when equipment errors occur. Most support services can walk you through the steps over the phone to get your machine up and running.
Calculate the ROI of your New Frozen Beverage Machine
Social Media Sharing
Share photos of frozen drink purchasers who are happy customers to create excitement and draw in more customers. A quick snapshot of a smiling customer with a bright frozen beverage can increase your reach and remind others to stop in and purchase a beverage. It will also make your customers feel included in your business. Social media is one of the most effective and cost-efficient ways to reach new customers, and with a consistent posting schedule, you can attract more business while also establishing a strong and consistent brand with a broad base of consumers.
Unique Flavors
The Whopper®, Slurpee, McFlurry® and Baja Blast are all well-known, established signature products that have definitely helped elevate major brands. Through a frozen beverage program, you can create your own customized product that will keep customers coming back for more. From classic options to trendy tastes, a frozen drink machine program provides operators with all the ingredients they need to make the perfect frozen mix.
A multi-flavor frozen drink machine can create an even more unique beverage option, giving your customers the ability to blend 5 flavors into 14 different drink variations. It's a win-win situation.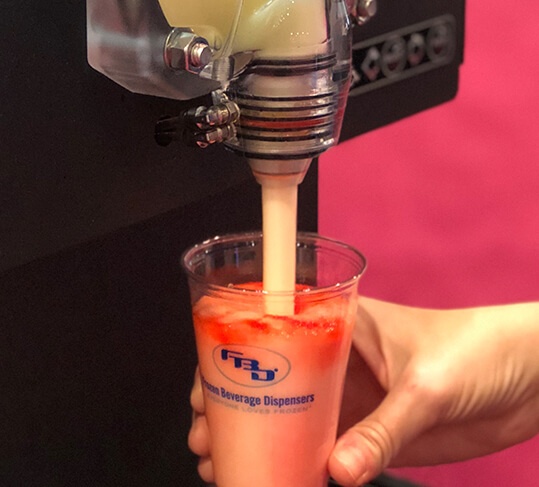 Employee Ambassadors
Signage and digital screens are effective; however most restaurants and C-stores underutilize the internal brand ambassadors who are walking billboards. Training your staff to be brand ambassadors to promote your frozen beverage center can greatly add to your drink sales. These brand ambassadors can ask customers if they'd like to add a frozen drink as they are ringing them up or completing an order. This can serve as a friendly reminder enticing customers to grab a frozen beverage before they leave your establishment.
To sum it all up, having a frozen beverage center at you location is a not only a great way to drive traffic and expand your product offerings, but also a strong tool to build brand affinity and loyal customers. The key to optimizing your frozen beverage profits is to promote your drink program to both existing customers as well as new prospective customers and create affinity to keep them coming back. From cost-effective social media strategies to digital technology on frozen beverage equipment, you can create your own custom program to increase customer traffic and more importantly, maximize your sales.