About 10 years ago, if you asked someone where to buy a frozen drink, the answers were most likely a convenience store, the nearest malt shop or a movie theater. As the frozen beverage category has expanded to encompass a wider range of products, and equipment manufacturers have created affordable, easy-to-operate countertop machinery, more and more industries are investing in commercial frozen drink programs. The simplicity of the product and profitability of the program make frozen beverages an ideal add-on to businesses in the C-Store, QSR, retail, movie theater, entertainment and hospitality industries.
Read on to discover how businesses around the U.S. are getting creative with their frozen beverage programs.
Leverage a not-so-secret "Secret Drink Menu" like Wawa®
Wawa, the super convenience store that has taken the East Coast by storm, has a committed fan base of more than 400 million customers. Known for fresh food options, Wawa's are stocked with c-store usuals as well as hot food and prepackaged meals. Their frozen drink menu is full of fruit smoothies, cream smoothies, frozen chai and frozen cappuccinos.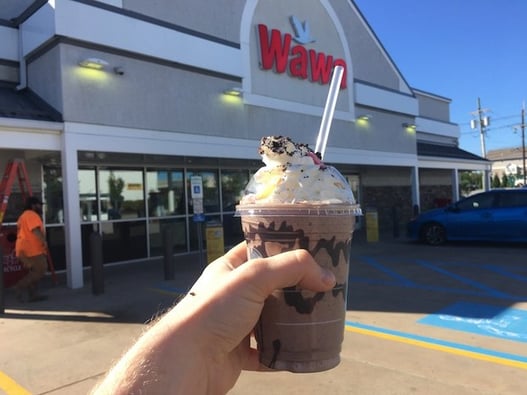 Photo Credit : Bobby Oliver | NJ Advance Media for NJ.com
Although the rows and rows of food and drink options can put any customer in a snack daydream, the secret drink menu is what keeps customers on their toes and returning to Wawa's frozen beverage center. For many years, Wawa has released new frozen drink flavors on their not-so-secret "secret menu". A small goose icon that is tucked into the corner of their touchscreen menus unlocks the exclusive sips of the season. It's not a secret that this menu exits, yet customers feel a sense of exclusivity with each new flavor release. From birthday cake milkshakes to the latest peppermint bark cream smoothie, Wawa has mastered the art of secret menus with fun frozen beverages.
Oversize your drink menu like Sonic®
Sonic has claimed the title of America's ultimate drink stop. The fast-food chain serves hotdogs, burgers, tater tots and more – yet when you say the name, you think drinks.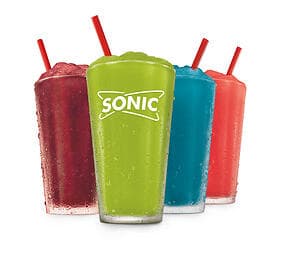 With more than 100,000 drink combinations, Sonic offers a build-to-order drink product that is unique to the QSR industry. Customers can choose their drink type – slush, fruit slush, cream slush or milkshake, and manipulate the base flavors and add-ins to create a one-of-a-kind concoction. The endless combinations have created a following over the years. Customers have gone to the internet and social media to share their favorite drink combinations with other Sonic fans.
The drive-in restaurant often releases new flavors and add-ins to keep their menu fresh and interesting. Recently, they added pickle juice, nerds and popping candy.
Photo Credit : Business Wire
Make a frozen drink an essential part of the experience like Target
An ICEE and a bag of popcorn have been Target shopping experience staples for many years. Customers can expect the aroma of fresh popcorn and the fizziness of a tasty frozen drink as soon as they walk into the store. Some can argue that the snack combo is equally as iconic as the red shopping carts and dog with a bullseye. In fact, Target received many customer complaints when the retailer decided to remodel some stores and replace the classic café complete with pretzels, popcorn and a frozen beverage centers with new Starbucks coffee shops.
Calculate the ROI of your New Frozen Beverage Machine
Pair a movie with a boozy beverage like Santikos Entertainment
Santikos Entertainment owns several theaters in South Texas. The blockbuster chain has taken a different approach to frozen beverages to grow their profit margin and satisfy customers. In addition to having commercial frozen dispensers in their concession area, they have added alcoholic frozen beverages to the menu. During a 2017 remodel to one of their locations, the Mayan Palace theater, Santikos created a frozen drink cantina, the Aca Bar, to elevate the atmosphere of the theater and offer their adult customers a unique experience.
Popular drinks include frozen chamoy mangonadas with tequila, frozen margaritas, Frozen Rum & Coke, and the Strawberry Daiquiris.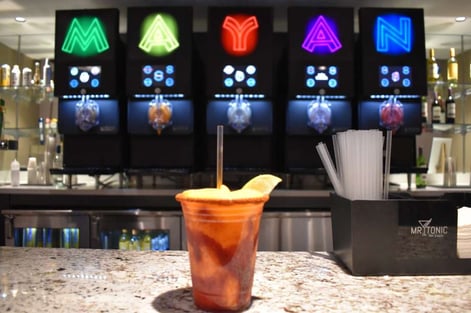 Photo Credit : San Antonio Express-News
Pair fun with frozen like Main Event
Main Event Entertainment offers a one-stop shop for fun with bowling, state-of-the-art arcades, laser tag, mini golf, dining and more. The amount of activities and reasonable entry fee draw in crowds of all ages and keeps them entertained for hours.
This past summer the entertainment house got even cooler with the launch of ICEE beverages system-wide. All 41 locations around the U.S. were equipped with frozen machines and began to serve the iconic drinks in fan-favorite flavors such as cherry, blue raspberry and sour grape. The timing of the launch was perfect because it offered customers an escape from the summer heat. Main Event-goers were thrilled about the new offering and look forward to seeing more flavors added in the future.
Include frozen drinks in an all-inclusive beverage package like Carnival Cruise Line®
You can certainly expect to find commercial frozen machines aboard a cruise ship. Indulging in rich milkshakes or refreshing frozen alcoholic beverages are almost customary in these all-inclusive tropical vacations. Many cruise lines, like Carnival Cruise, offer beverage packages to their members to promote a wide range of drinks. For a daily flat fee, passengers can get free and discount soft drinks, waters, alcoholic beverages and frozen drinks.
Set up a profitable frozen program, specific to your unique needs. Start Your Frozen Program
From shopping to bowling to vacationing, frozen beverages are enhancing consumer experiences across multiple industries. The beverage industry has grown exponentially due to the high demand and better accessibility of commercial beverage dispensers. Frozen carbonated drink dispensers, Commercial slush machines and commercial smoothie machines are more dependable and affordable than ever before, giving operators a fast return on investment with little hassle and maintenance.
Endless flavors and add-ins allow businesses to create signature drinks and claim a custom menu. Think about your business and your audience. How can you use a frozen beverage program to satisfy your customers and grow your business's sales? Different frozen beverage types and beverage programs compliment the structure and goals of many businesses. Click here to see the different types of products you can offer through a frozen beverage program.