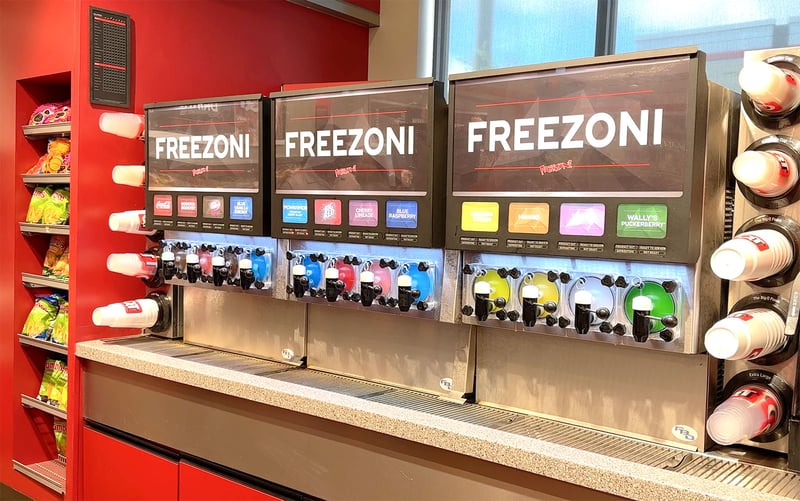 Frozen drinks are virtually everywhere today, driven by robust demand and a trend-following public. Movie theaters, quick-service restaurants, coffee shops, and convenience stores all commonly feature frozen beverages today. In fact, more than 80% of all convenience stores and gas stations globally have a frozen beverage dispenser somewhere on site. For many people, a convenience store or a QSR practically creates the expectation that frozen beverages will be available inside. These businesses know an important fact that many other establishments should note: the right commercial slushy machine can be a highly profitable investment.
What is a commercial slushy machine? Although there are different types, we mean the type of frozen beverage created through freezing water and adding flavored syrup along with sugar. The resulting drink, often called a frozen uncarbonated beverage (or "FUB"), has a coarse and slushy texture that is more watery and contrasts with the smoother, smaller ice crystals of frozen carbonated beverages.
At FBD Frozen, we've created an innovative line of high-value, high-quality commercial drink machine solutions suitable for many locations. From movie theater concessions to cafes, restaurants, and beyond, food service locations of all kinds can enjoy benefits from such an investment.
First, let's review what should factor into your hardware selection, then explore the exciting advantages that await.
What to Consider When Choosing a Commercial Frozen Drink Machine
Not all frozen beverage machines are the same; in fact, there can be a considerable amount of variation in the marketplace. Before we assess the benefits your business might enjoy, we think it's also important to briefly touch on what factors go into selecting a smart investment. They include:
Placement
Counter space comes at a premium, and placement has an important role in attracting customer attention. Thinking about where to install your machine is an important step early in the process. We've worked hard to simplify this element: FBD units are industry leaders in this space with the smallest available footprint and maximum functionality.
Capacity
Can you find a machine that can weather a rush and then replenish itself rapidly for the next group of customers? When that tour bus or school field trip arrives in the parking lot, the capacity to serve and satisfy every potential buyer makes your machine most profitable. We've designed our hardware to be resilient and efficient even during the high-volume periods of the day.
Drink style
It's important to think carefully about what type of frozen beverage you want to offer, as it will determine the type of hardware you purchase. Though you can make some changes later, it typically requires a hardware refit — so it's key to select a machine type that aligns with the desires of your consumers. For example, millennials have increasingly embraced frozen alcoholic cocktails, especially in movie theaters and restaurants.
Flavor options
How many flavors do you want to offer? Do you want a particular machine that can offer extra flavor add-ins so that buyers can customize their experience? These are more fundamental questions to explore during the early stages. The good news, though? Rotating through different flavors is easy—so as your buyers' tastes change, you can continue to provide satisfying beverage options.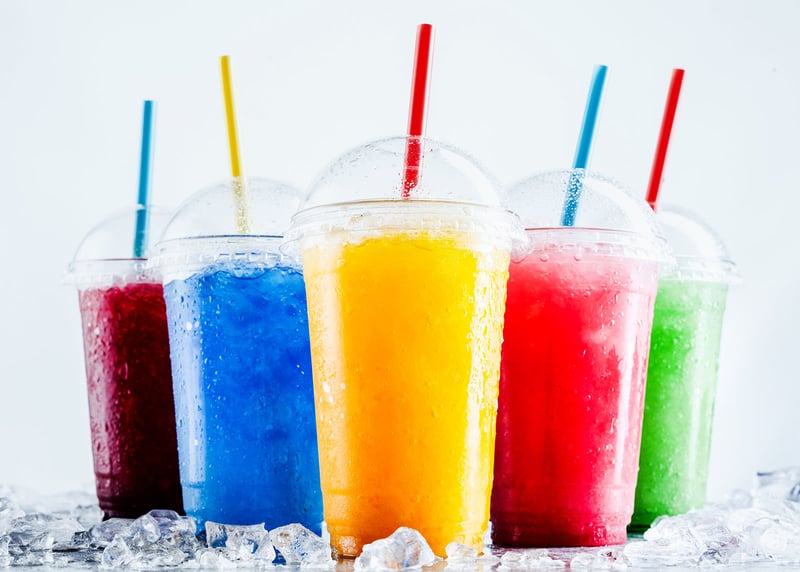 Upkeep
How much training will employees need on the units? How often do you need to do cleaning and maintenance operations? Look carefully at the hardware you select for reliability and long-term durability, such as the closed, sealed system FBD machines use.
What Key Features and Benefits Could Your Business Enjoy?
By selecting the right machine, you can equip your business with the opportunity to boost revenue and increase customer satisfaction. More specifically, how can you expect your investment to create an advantage for your operations? There are five major points to know.
Engage and excite new, diverse audiences
The presence of a commercial Icee machine might be a mainstay in some locations, but frozen beverages are so popular today that they can be profitable in many more spaces. Movie theaters are one such location. Entertainment complexes, such as those run by Main Event Entertainment, are also the perfect location for delighting children and adults alike. By adding frozen beverages to your product lineup, you can start capturing business from some highly motivated market segments, including millennials and a growing number of Gen Z buyers.
Capture impulse buys
Frozen drinks are popular year-round, meaning eye-catching signage and seasonal flavor options can inspire sudden impulse buys in your location. However, summertime offers a special opportunity to market to impulse buyers. Convenience store owners have long known the powerful allure of a cold, crisp, frozen carbonated drink on a hot day. Having this hardware can open valuable revenue streams and fun marketing opportunities throughout the year.
Consistently enjoyable product quality
With FBD hardware, you can expect rapid product readiness due to the freezing technology built into our machines. Designed to produce the consistently smooth texture consumers expect, highly accurate syrup mixing also ensures a regular flavor throughout an entire batch. Even after a rush, the system quickly replenishes products to keep your sales flowing. Happy customers who recognize quality are more likely to return—and to tell their friends.
Flavor options for following trends
All FBD machines use "bag in box" syrup technology using hoses to connect to the machine drums. With this solution, rotating different flavors through your machine over time is as simple as emptying one product and replacing the syrup box with a different flavor. When serving frozen carbonated beverages, most of the drink is water and carbon dioxide — meaning that flavors go further and translate into higher margins.
Low maintenance, high uptime
The more time your machine spends in operation, the more opportunities you have for making sales. Many machines today require daily or weekly cleaning and sanitizing to keep them food safe. However, since FBD machines use an entirely closed system, that's not a problem — nor do employees need to spend time disassembling equipment each night. Instead, our machines can operate for up to a year without professional maintenance and with just a simple wipe-down for cleaning. That reliability correlates directly to a better ROI.
Explore the Possibilities for Your Business Today
Frozen drinks have enjoyed enduring popularity for years. Now, fresh waves of interest and the increasing popularity of new drink types mean that frozen beverages are in the spotlight again. With low maintenance needs and high margins, an investment in the right equipment today could pay consistent dividends for your business in the years to come.
Find out more about FBD's innovative hardware and the business-boosting capabilities of our frozen beverage solutions when you connect with our team today.