Frozen beverages are a staple in the world of quick-service restaurants and convenience stores, providing customers with a refreshing and delicious way to beat the heat. However, executing a successful frozen beverage program is not just about having a variety of flavors on the menu. It requires careful consideration and attention to several key elements. Here are the essential items that FBD Frozen recommends for a successful frozen beverage program.
1. Branded Drink Programs
Branded drinks are an essential part of any successful frozen beverage program. Examples of branded drinks include Frozen Coke, Frozen Fanta, ICEE, Pepsi Freeze, and Slurpee. Branded drinks not only help with marketing and name recognition but also play a vital role in attracting customers to the store. People often make judgments based on relatable branding that they feel embodies their values and interests. Branded drinks help drive foot traffic as frozen beverages are not easy to make at home.
2. Point of Sales Materials
Sales increase when there are point of sale materials highlighting frozen beverages outside and inside the store. Examples include menu callouts, window clings, and other signage. These materials draw attention to the frozen beverage program and provide customers with information about the flavors available. They also create a sense of urgency, prompting customers to try the frozen beverage before leaving the store.
3. Cold/Frozen Beverage Stations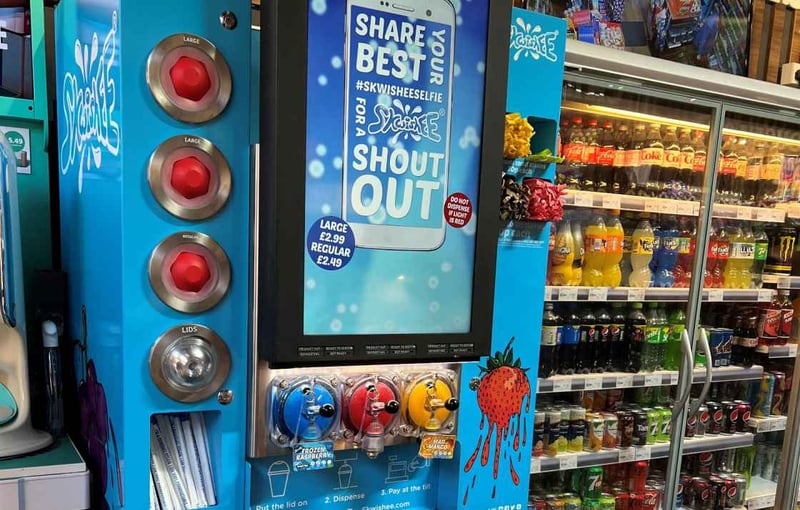 Cold and frozen beverage stations are essential in self-service applications. A drink station allows guests to grab something when they want to without having to track down an employee. Frozen beverages are not easily made at home and drive foot traffic having a visible and easily identifiable beverage station is critical to driving sales. Customers are more likely to purchase a product if they can see it and proper placement on the menu and in the store will drive incremental purchases.
In conclusion, a successful frozen beverage program requires careful consideration and attention to detail. Implementing a branded drink program, having point of sales materials, offering a visible and easily identifiable cold/frozen beverage station, investing in high-quality equipment, and using high-quality ingredients are all essential for creating a successful frozen beverage program. FBD Frozen offers a range of products and services that can help businesses create a profitable and sustainable frozen beverage program.