In our previous article, we discussed one of the biggest trends in the world of coffee; nitro cold brew.
Nitro cold brew has gone mainstream and is already one of Starbucks' best-selling drinks. Because of this, the company plans to install nitrogen equipment in all of its US stores by 2020.
Starbucks has been testing out another nitrogen-infused beverage that's also likely to go mainstream very soon; nitro tea.
According to StarbucksMelody.com, Starbucks has been conducting "a small test in select Seattle Reserve stores. Not every Reserve location has it. You can find the Nitro Teavana Peach Tranquility at the Ballard Reserve Starbucks and the Starbucks at 7th and Westlake in downtown Seattle."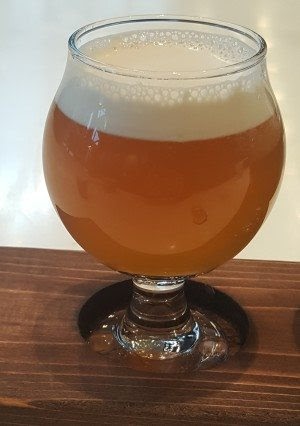 Photo By StarbucksMelody.com
What is Nitrogen-Infused (Nitro) Tea?
While nitrogen-infused tea may sound new and strange, putting a gas into a beverage has been a common practice for a very long time. Sparkling water, beer, and soda are all beverages infused with carbon dioxide (CO₂).
In fact, carbonated tea has been around for a while now.
Nitro tea is no different, except the CO₂ has been swapped for nitrogen.


Why replace CO₂ with nitrogen?
While many tea drinkers are purists and choose not to add anything to their cup, others prefer to add milk and sugar for a creamy texture and a bit of sweetness.
Fortunately, this thick, creamy, velvety-smooth texture is exactly what nitrogen imparts when added to a beverage. In addition, the nitrogen mellows out the bitterness, reducing the need for extra sugar.
The creamy texture of nitrogen-infused beverages is an illusion created by the incredibly tiny bubbles that nitrogen creates.
Nitro tea is a great option, both for lactose-intolerant tea drinkers, and those looking to add the texture and flavor of milk and sugar, without the extra calories.


How Frozen Nitro Tea is Made
Frozen beverages continue to be an extremely popular product among consumers. They're also one of the easiest, most profitable products for retailers to sell. In fact, with the right frozen beverage program, you can see profit margins as high as 70%-120%.
Because of this, retailers in the restaurant and convenience retail industries are already beginning to combine the rising popularity of nitro tea with the high profit margins that frozen beverages offer.
Frozen nitro tea can be made in the same frozen carbonated beverage machines that ICEE or Slurpee drinks are made in. These dispensers are already used in more than 80% of the world's convenience stores and gas stations.
In these machines, a mixture of syrup, water, and CO₂ is chilled down, often below the freezing point of water. While water alone would freeze solid quickly under such temperatures, pressure (up to 40 P.S.I.), sugar, and CO₂ all combine to prevent the mixture from becoming a solid block of ice.
When this mixture is dispensed into a cup, the pressure is released, allowing ice crystals to rapidly form and expand, giving frozen carbonated beverages their signature, fluffy, foam-like consistency and crisp texture that customers have grown to know and love.
Frozen nitro beverages are similar, except they provide a much smoother, creamier texture. To make a frozen nitro beverage, you simply add nitrogen to the machine, instead of CO₂.
With a frozen beverage machine equipped with nitrogen, not only can you provide smooth, creamy, nitro tea in frozen form, you can also provide all the other frozen beverage flavors that customers have come to love, such as Orange Creamsicle, frozen coffee, lemonade, and even cocktails.
Set up a profitable frozen program, specific to your unique needs. Start Your Frozen Program
Get the Industry's Most Profitable and Trusted Nitro Frozen Beverage Dispensers
FBD has the ability to apply nitrogen across all of our product platforms, and to date we have nitrogen configurations for the 372 and 774.
We are trusted by 80% of the world's frozen beverage retailers, and our dispensers have the lowest total cost of ownership in the industry due to:
Minimal Training: Our dispensers are easy to operate, requiring less training than other dispensers on the market, lowering your overall labor costs.
Smallest Footprint: Maximize counter space with the smallest footprint in the industry.
Highest Proven Capacity: Ensure you have enough product during peak times with high foot traffic and consumer demand
Maximum Uptime: The use of a closed-sealed system in conjunction with bag- in-the-box technology (BIB) means you do not have to take your dispensers apart to clean. Your store staff can save hours of cleaning time compared to other equipment options. This allows you to provide your customers consistently high drink quality with equipment designed for maximum uptime.
Long Lifespan: FBD dispensers are engineered for low maintenance and longevity. FBD's built-to-order dispensers deliver high-quality frozen beverages throughout their 10-year average lifespan. That is almost 3x as long as the average open bowl system, which is what many other equipment options rely on today.
All of these features make it quick and easy to implement a profitable nitro frozen beverage program in your business.


Offer Even More Exciting Flavor Options with Multi-Flavor Dispensers
Nitrogen capability will soon also be available for our new Multi-Flavor line-up on the 372 MFLV, 771 MFLV, and 772 MFLV.
Our Multi-Flavor dispensers allow customers to choose 1 base flavor, and then add up to 8 additional flavors to create a completely unique drink that's perfect for them.
These dispensers feature a simple touchscreen interface that allows customers to easily select their desired flavor combination.
At the touch of a finger, customers can instantly mix the frozen beverage and flavor of their choice, such as:
Frozen tea mixed with peach, mango, strawberry, or lemonade for a new take on the classic Arnold Palmer
Frozen nitro coffees with a shot of mocha, caramel, hazelnut, or french vanilla
Frozen lemonade mixed with strawberry, mango, blueberry, or peach
A frozen cocktail with a shot of their favorite flavor and spirit, such as Margaritas, Vodka Lemonade, Sangrias, or Jack & Coke
Multi-Flavor dispensers are ideal for locations with limited retail space and a broader target audience (such as Millennials) with constantly changing demands.
Another big advantage of our Multi-Flavor units is that they dispense beverages (including spirits) in pre-set, controlled portions, reducing waste and saving costs.


Let's Start Building Your Frozen Nitro Product Line Today!
Whether you run a restaurant, amusement park, movie theater, hotel, bar, or cruise ship, our expert team can advise you on the best way to set up a highly-profitable, frozen nitro beverage program.
At FBD, your business becomes our business. We work hand-in-hand with you to adjust your Frozen Nitro Beverage Program to your specific capacity and footprint needs, and to shifting market demands.
With over 532 unique equipment configurations, we can completely transform the interface of our machines, whether crew-served or self-serve, to align with your marketing needs.
We provide a dedicated service team, along with field service trainers that offer 24-hour tech support, free training on equipment, and field support.
Schedule a call to have one of our experts help you:
Recommend the ideal products for your specific type of location
Identify the right equipment and customization
Estimate your ROI
Provide an operations implementation plan including labor, maintenance savings estimates.