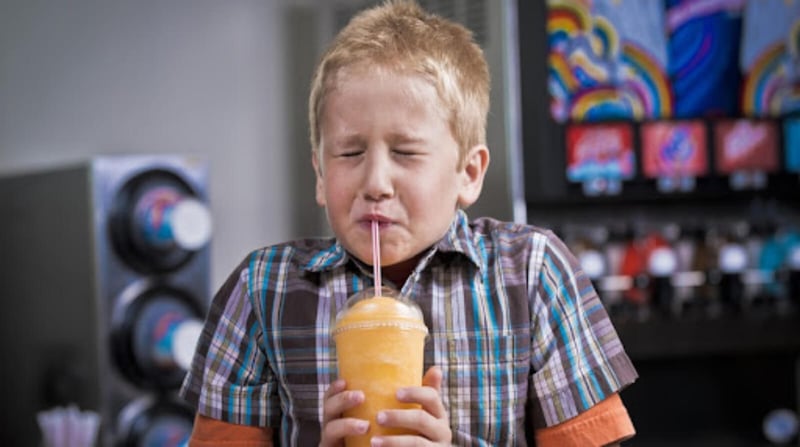 Without a doubt, there's ample opportunity for store owners to turn a profit with a frozen drink offering.
Consumers can't get enough of them. The novelty of the frozen drinks category, fused with the variety of flavors, and the fact they're not easy to make at home, mean stores with a frozen drink machine can charge a premium price tag.
But what about the commercial frozen drink machines themselves? Are they cost-effective? How easily can ROI be realized with a frozen beverages machine? We all know new investments are not something business owners take lightly. That's why it's important to take a step back and look at the profit frozen beverage machines can bring to your business.
Let's dive right in and take a look at five different ways a frozen drinks machine can make you money.


Maximum Margin, Minimal Ingredients
Frozen drinks machines are profitable from day one. High impact, eye-catching slush machines that can be custom branded and placed in most spaces; they always turn heads.
From milkshakes and iced coffees to slush, granita, and other frozen treats – frozen drinks are, for the most part, simply water or milk and syrup. However, as simple and tasty they may be, Frozen Carbonated Drinks machines come out on top in the profit stakes. Containing just 10% syrup – plus 50% CO2 and 40% water – slush drinks and frozen cocktails are cheap to produce without compromising quality.
The overall cost of frozen carbonated beverages equates to less than 50 cents in most cases – once you factor in cups, lids, and straws, etc. Not bad, considering they can boost impulse sales while retailing for up to $7 in some locations. Even if you decide to charge half of that price, you can easily reach $20,000 yearly in extra profit, depending on your location.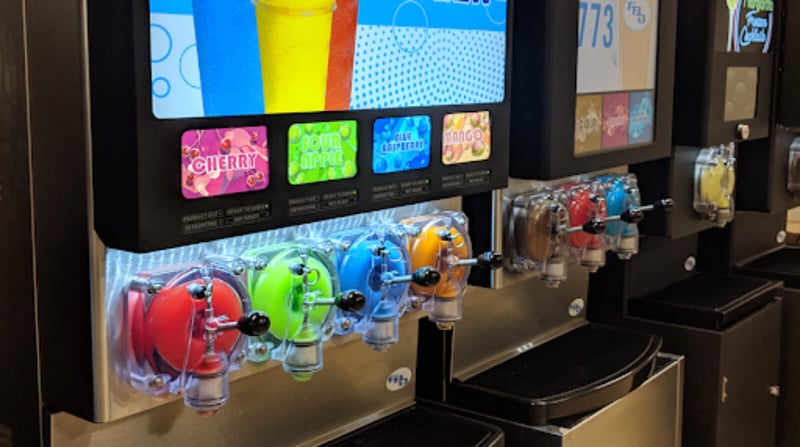 High Capacity, Low Effort
Uptime is everything when you own a commercial frozen drinks machine. After all, if you can't serve, you can't sell. Luckily, high-capacity dispensing machines ensure that everything runs smoothly – even during busy times, such as after-school and weekends.
Maintenance is kept to an absolute minimum with most machines, but again, frozen carbonated drinks machines come out on top. They arrive sanitized and ready to go – as long as syrup and CO2 levels are kept topped up – you only need routine maintenance once a year.


Equipment Integrity
Designed to last at least seven years, FBD frozen drink machines are built with high-quality parts – meaning they stay in top-notch condition for longer. Common complaints are usually things like the machine going into defrost mode or syrup running out. These things are easily remedied, and owners can be shown how to tackle them on their own.


Flavor Varieties & Combinations
From mainstream favorites like cola, orange, and blue raspberry; to custom combos like strawberry lemonade or ICEE Twisted Chill – and not forgetting grown-up alternatives like frozen margaritas, sangria, or whiskey and cola – Multi-Flavor frozen drinks machines pack a premium punch.
The more flavors your slushy machine provide, the more appeal your offering will have – and the more profit you're likely to generate, as long as you have the right amount of customer footfall; and a price that'll appeal to their pocket change.


Finance Options
Generally, frozen drinks machines offer excellent return-on-investment – less than 12 months in many cases. While competitively priced, renting or leasing machines may be preferable to outright purchase for smaller convenience stores and businesses.
It's always a good idea to explore the possibilities with different frozen drink machine providers – but make sure you consider the total cost of ownership, servicing, maintenance charges, and the cost of syrups and CO2 for each one. It could be that the hidden costs outweigh the largest cost of the frozen drink machine itself.
All things considered, there are many different ways that businesses of all shapes and sizes can turn a profit from investing in commercial use frozen drink machines.
It takes ambition and imagination to make your investment a commercial success. But with support from the right partners, the opportunity is for the taking!
Calculate the ROI of your New Frozen Beverage Machine
Ready to learn more about starting your highly-profitable, Commercial Frozen Drink Program?
FBD Frozen is trusted by 80% of the world's frozen beverage retailers.
We have the reliable equipment and responsive support team to help get your profitable ice drink program started today!
We work hand-in-hand with you to create an ice drink program that addresses your specific capacity and footprint needs and meets shifting market demands. Whether dealing with seasonality, new technology, or changing market trends, FBD's team of experts will help you adapt your ice drink program to maximize your margins.
With over 532 unique equipment configurations, we can completely transform the interface of our machines, whether crew-served or self-serve, to align with your marketing needs.
Whether you run a movie theater, a convenience store, a quick-serve restaurant, a bar, or an institution, we have the reliable equipment and responsive support team to help you get your profitable ice drink program started today!