Frozen carbonated beverages provide a fresh, fun way to enjoy a cool treat. Soda fans will enjoy the break from the normal routine with a frozen variation of their favorite flavors. And business owners will enjoy a bigger profit margin with novelty drinks that sell at a higher price point and almost sell themselves.
What is a Commercial Frozen Drink Machine
A frozen commercial drink machine is a versatile beverage prep and dispenser that can be used for profitable, refreshing sweet treats like frozen lemonade, a new twist on carbonated beverages, and more. These machines work with flavored syrup and electricity to create a delightful frozen treat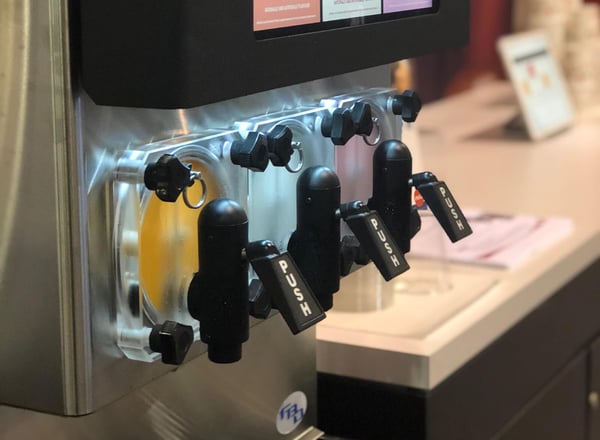 How Much Does a Frozen Drink Machine Cost?
As a business owner, you probably already know that the price tag is only one piece of the puzzle in determining the cost of a new machine or product addition. Understanding the full cost of a commercial frozen drink machine is your first step toward launching a profitable new product.
The cost of a commercial frozen drink machine varies based on the size and capability of the machine. On the low-end of the spectrum, these machines start around $1,500 and go upwards of $15K. You'll also need to consider:
Cost of Supplies (syrups, cups, lids, straws)
Downtime for Cleaning & Maintenance
Labor Needs
Impact on Other Sales Categories
Seasonal Traffic Volumes
Marketing Costs
The good news is that these costs can be easily recouped in a matter of months. Find out how quickly a new frozen drink machine can pay for itself in your business with our ROI calculator.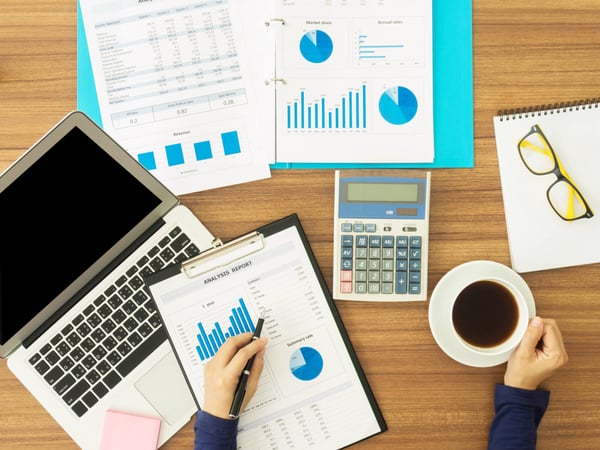 Where do Frozen Drink Machines Work Best?
Frozen drink machines can go over well anywhere that there is enough foot traffic looking for a sweet, cold, or refreshing treat. You'll often find these machines in convenience stores and gas stations with a selection of flavors to cater to a wide and varied audience. But that's not the only place they can work.

Quick Service Restaurants: Boost your average ticket price by adding an irresistible frozen beverage flavor featured with menu inserts and recommended upsells by your waitstaff.



Amusement Parks: Take advantage of time spent outdoors in the warm weather by park patrons and quench their thirst with a delicious, frozen treat.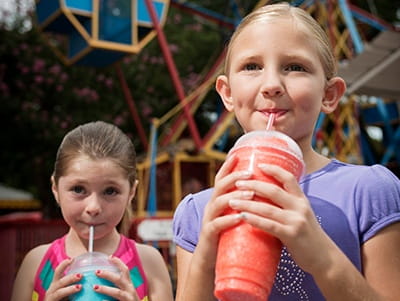 Movie Theaters: A premier show experience is a perfect opportunity to indulge in a special treat. Boost your concession sales numbers with premium drink options.

How to Decide if a Frozen Drink Machine is Right for your Business?
There's no doubt about it – frozen beverages are popular with the masses. But making frozen drinks work for your business takes a plan. More than half of consumers have indulged in a frozen beverage within the last month and that number is steadily growing.
For businesses that already sell food or beverages, adding a frozen drink machine is as easy as choosing the right machine and flavor combination and getting the word out. Analyze your current foot traffic and identify any seasonal trends and design your drink program to play into those trends.
Three questions to help you decide if frozen drinks are right for your business:
Do you currently sell any food or drink item that pairs well with fruity flavors or carbonated beverages?
Are you looking for something fun, new, and fresh to add to the menu?
What is your current drink sales volume and can you take advantage of any opportunities like warm weather to increase sales?
Once you know if a commercial frozen drink machine fits your business, it's time to do the math and see what the numbers look like. By calculating your costs to add a drink program and making some sales projections for comparison, most business owners can make a pretty educated decision on the feasibility of frozen drinks in their establishment. Then, all that's left to do is survey your customers and see what flavors might work best!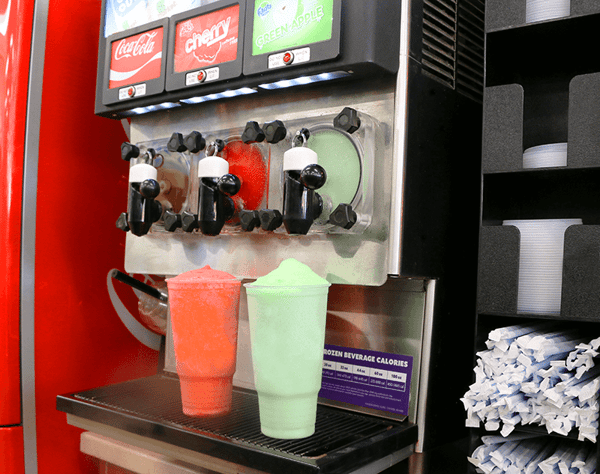 Frozen Drink Technology to Take Advantage Of
From the mid-1960s to today, frozen drink machines have seen a few changes that make adding frozen drinks even easier and more profitable. Let's take a look at a few of the innovative features that today's machines.


Equipment Versatility
Commercial frozen drink machines come in many different sizes, making it possible to add a frozen drink program to any venue. With the small footprint of some machines, it's possible to add a high-profit menu option without a lot of space.
With modern machines, you have less to commit to. You can buy one machine that can support up to 32 different flavor combinations, providing your customers with a big selection. Choose the refreshing citrus crisp of frozen lemonade with variations like lime, cherry, raspberry, and mango. Or, spice up your bar business with frozen alcoholic beverages like a frozen Jack & Coke or Margaritas. And boost your summertime coffee sales with frozen varieties like frozen nitro coffee drinks that come in popular flavors like mocha, hazelnut, and vanilla.
On top of maximizing your flavor selections while minimizing your space requirements, some of the more notable features of modern frozen beverage machines include:
Flexibility around configuring drink options for multiple types of beverages
Built-in digital diagnostics for maximum up-time and fewer maintenance costs.
Accessible designs for simple routine maintenance steps.
Different cooling systems for different applications; air cooled, remote cooled, and water cooled.
Proprietary freezing technology for achieving the perfect drink consistency.
Automated settings for drink quality control.


Equipment Customization
The best part about working with a frozen drink machine distributor is that you can customize the drink program to meet the specific needs of your business. Choose from different capacity levels to serve different traffic levels efficiently, keeping frozen drinks in supply when you need them. There are many more additional features that can be customized to fit your needs, like:
Refrigeration: Choose between remote condenser, air-cooled or water-cooled units.
Aesthetics: Choose the look that fits your brand best, including the clean and modern appearance of stainless steel, the attention-grabbing power of red, or the sleek look of black.
Merchandisers: Choose between tall and short traditional merchandisers or video merchandisers.
Accessories: Deck your equipment out with a variety of accessories like cupholders, base carts, and supply dispensers.
Set up a profitable frozen program, specific to your unique needs. Start Your Frozen Program
Conclusion
Adding frozen drinks to your commercial business has never been easier. Modern technology and a range of options make it easy to tailor the perfect product to meet your needs, making frozen beverages a profitable product category for convenience stores, restaurants, amusement parks, and more. A fully customizable product solution usually comes with a high price tag. However, frozen beverage machines are some of the most cost-effective options on the market, and are typically the easiest commercial kitchen programs to set up and maintain.