Adding slushies or frozen drinks to your product lineup can be a great way to bring in more traffic on hot summer days. But there is no shortage of options for drink machines, and you might find yourself getting overwhelmed. Here, we'll discuss the key differences between slushie machines and frozen drink machines so that you can make an informed decision as you begin to shop.
Plus, here's a quick look at the key points covered for choosing the right machine:
Know what product type you are planning to sell and choose the right machine for the job.
Calculate your serving capacity needs based on your hourly foot traffic.
Choose the right location for your drink machine and measure the available space.
Decide which features are important to you.
Slushies and frozen beverages both make a great addition to most menus. While there probably isn't a wrong answer, there are a few differences. Let's make sure you know what you're buying before your new machine arrives. There's a good chance you've never thought much about the array of frozen drinks served in restaurants and convenience stores.

What's the Difference Between a Slushie Machine and a Frozen Drink Machine
All frozen drinks are the same, right? Nope. There is more than a brand-name difference between slushies and other frozen drinks. If you're considering adding a drink machine to your venue, you'll need to make a choice between the two. Here's what you need to know about the differences between a slushie machine and a frozen drink machine.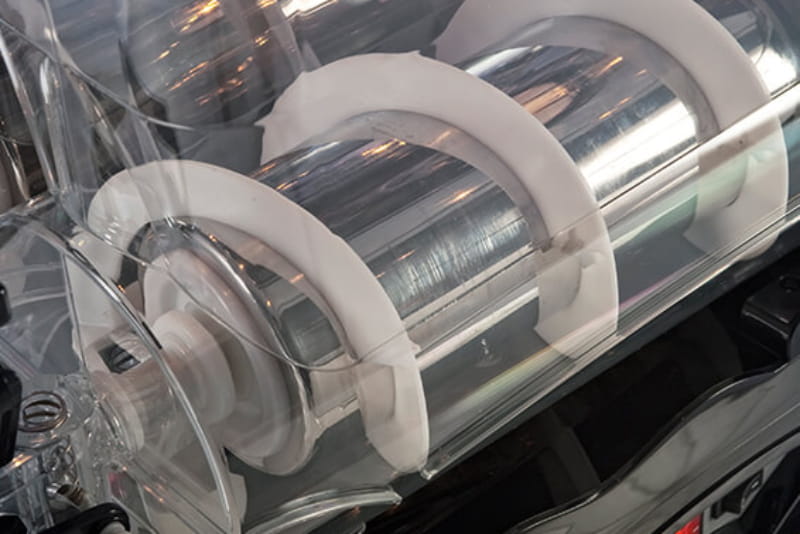 Slushie Machine
A slushie is a frozen drink made using different mechanisms to crush, pulverize, or chop ice that is then combined with syrup or flavoring. Sweet and tangy combinations go over well, like strawberry lemonade or blue raspberry.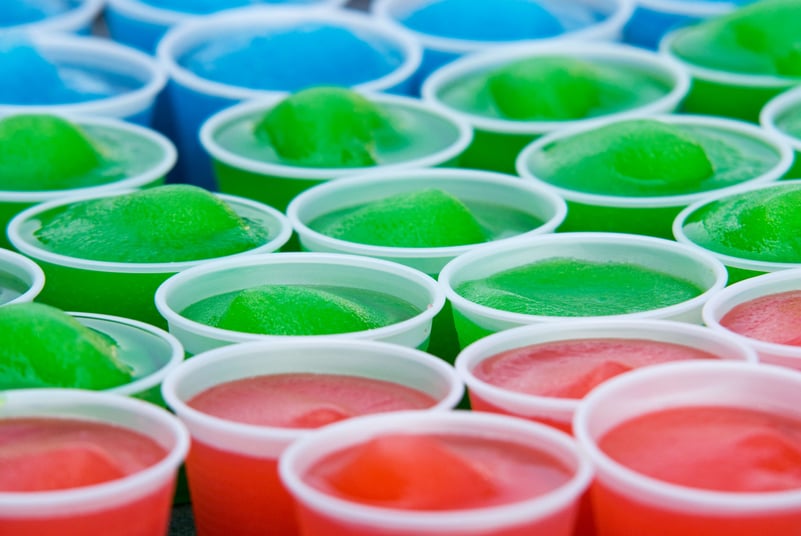 Frozen Drink Machine
A frozen drink machine refers to a wider category of beverage machines that uses a water line to combine with syrup using rapid-freezing technology to create tiny ice crystals. When these ice crystals are combined with a beverage mix, it creates a specific frozen consistency. In addition to achieving the perfect texture, the benefit of maintaining a semi-frozen consistency is that it's unlikely that the beverage maintains the same flavor from start to finish.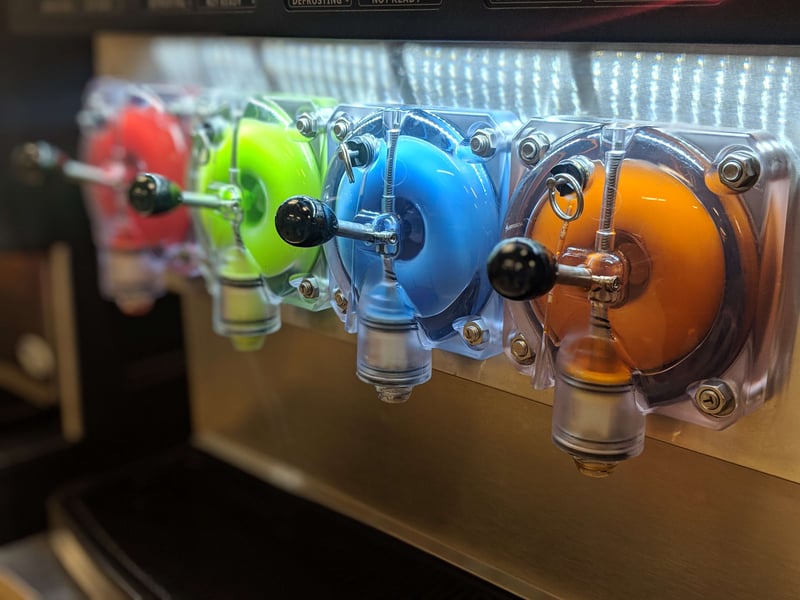 Where Will Your Machine be Installed?
The options for slushie and frozen drink machines can be overwhelming. Aside from narrowing the list by your preferred beverage type, you can consider the size of the machine. Deciding where you will put your machine before you start shopping will help narrow down the options even more.
There are several factors to consider when choosing appropriate machine placement, including:
Space Requirements
Self-Service or Employee-Dispensed Drinks
Compressor Type
Venting Requirements
Frozen drinks and slushie machines come in many different sizes. Compact countertop models can be as small as seven inches wide and 20 inches tall, while full-size models can be four or five feet in each direction. Getting the wrong size could throw a wrench in your plans.


Pros and Cons of Self-Service Machines
Many businesses love the idea of a set-it-and-forget-it dispenser. A customer-facing unit that sits in a retail space and uses programmable maintenance can be a hands-off way to add new beverages to your product mix. But there is also a higher waste rate as consumers tend to be more careless. Self-service machines also take a little bit more abuse. That means you'll want to pay your maintenance budget a little more and invest in a sturdier machine upfront.


Pros and Cons of Staff-Service Machines
In some cases, it makes the most sense to keep your frozen drink machines in the kitchen. A restaurant that serves frozen margaritas doesn't want to give the whole community unfettered access to the booze. In that case, the machine belongs to the employee-facing staff. The downside to that is that it will be more labor-intensive for your staff. You can balance those costs with a slightly cheaper machine because it doesn't need to hold up to the demands of every person who walks through the door.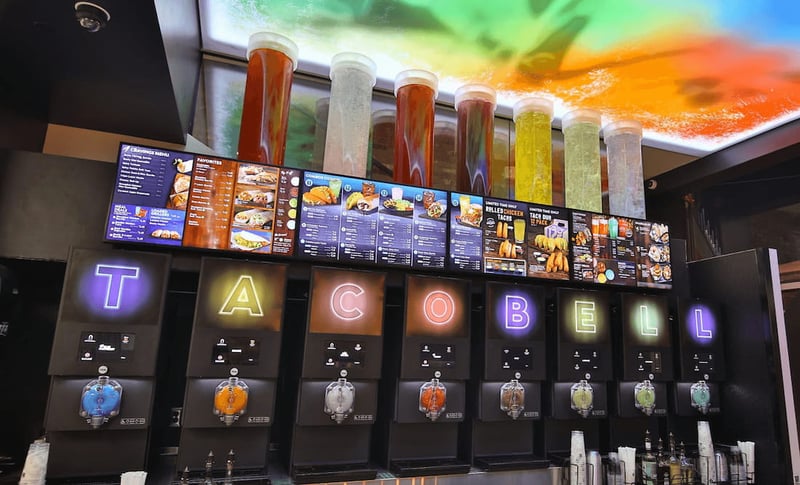 Choosing the right location can be a matter of personal preference. Just keep in mind that if you place a self-service slushie machine in the back corner of the store, your customers will have a hard time finding it. You'll need more signage to get traffic to the machine. Instead, you should try to choose the best line of sight when customers enter the store. If you opt for employee-facing drink dispensing, use a countertop machine and put it in view of customers with signage on the back to leverage a visual reminder.


What Other Features Should You Consider?
The two most important considerations are drink type and size, but there are many more features to consider between base models and high-end commercial units. The good news is that most drink machines are known to be relatively low-maintenance. You can simply fill and refill as needed with an occasional cleaning. Here are some common features to consider:
Auto-Fill Sensors
Self-Diagnostics
Lit Signage
Casters for Mobility
Overnight Holding with Self-Sanitation
Programmable Settings
Reservoir Size
Reversing Auger (Speeds Up Drink Prep)
Digital Security (Locks, Programmable Controls)


Profit-Boosting Considerations
Some features are essential, and some are simply nice to have. Knowing what's important to your business can make the difference between a profitable endeavor and an investment that falls flat of expectations. When considering your options, look at each machine and evaluate how it fits into your overall product diversification strategy.
High-profit machines require minimum ingredients with maximum margins. This means that you want to price out the cost of drink mixes before making a commitment, and you'll want to feel out the clientele for their flavor preferences. A good idea can tank if you choose an unpopular flavor. What does the math work out to? There are several factors that go into it, but we usually see clients with costs around $0.50 per dispensed beverage. Those costs include products, cups, lids, straws, etc. If you can put a price tag of $4.50 on a frozen drink, that's a good spot to be in.
You'll also want to match the capacity to your traffic needs. There is nothing worse than running out of your new menu item halfway through the dinner rush. But at the same time, you don't want to overspend on a bigger capacity than what your business needs. Most models require minimum maintenance; however, any features that can minimize the upkeep are always appreciated. Auto-fill sensors and self-sanitation for overnight holding can be a big help in this department.
All the bells and whistles in the world mean absolutely nothing if what you buy is ultimately an expensive piece of metal. The quality of the equipment is as important as the features it offers. Reputable drink machine manufacturers can produce machines that run optimally for several years. The average lifespan is about seven years, with the daily demand on the unit a big factor in how long it lasts.
Another place where you can go too big too soon is in flavor varieties. If this is your first trip into frozen beverages, we recommend starting small with a single or double hopper. The more flavors you offer, the more supplies you will need to buy and the more beverages you will need to sell to reach your break-even point.
The frozen drink machine market is probably a lot bigger than you realized. From budget-friendly options to high-tech, large-capacity machines, there is a little something for everyone. The thing is that not every business can make the full-scale commercial model profitable, so it really comes down to choosing the machine that's right for you.


Set up a profitable frozen program, specific to your unique needs. Start Your Frozen Program
How to Make Money from your Machine
Making money is also probably at the top of your list of reasons to buy a drink machine. Sure, there might be some establishments simply looking to boost client appreciation or loyalty, but profit is still the biggest driver of new commercial purchases. And profit means knowing how to measure the return on investment for your machine so that you can make smart business decisions.


Measuring ROI: Slushie Machine vs. Frozen Drink Machine
There are two broad categories that you need to dive into in order to accurately calculate the return on investment for a new drink machine. The first is your costs. We're not just talking about how much the new machine costs. We're talking about all related operational costs, including training your staff, maintaining the machine, buying supplies like syrups and cups, and the impact of this machine on sales in other categories like bottled sodas.
The second category that you need to dig into is your pricing and sales projections. If you're staying on top of your business, you probably know roughly how much traffic you get and what the seasonal patterns are. A drink shop on a busy boardwalk won't see the same numbers that a rural diner does.
These numbers can provide an effective way to rough out some sales projections and models with different price points. In most cases, businesses can make back the cost of their drink machines in less than one year. Some high-traffic businesses may even whittle that down to mere months.


Tips for Success with your Slushie or Frozen Drink Machine
Frozen drinks can be a great addition to many venues, especially in the warmer months. But it takes a little more than choosing the right machine to make this menu item profitable. The good news is that choosing between slushies and frozen drinks probably isn't going to be a sticking point for the financial future of your business.
Your strategy, on the other hand, will make a difference. Every decision, from machine placement to marketing and sales pushes, is important. Approaching your drink machine with a strategic eye will help you capitalize on the right moments and drive your sales up.
For starters, plan a big product launch complete with fresh signage and an attractive promotional offer. Generate some buzz and get everyone on board with making a big deal about your new menu item. It's basic retail at its finest.
Spread the Word
Grab Attention
Get People Excited
Keep it Fresh
Hire a photographer to do a fun and fresh summer-themed photoshoot that highlights your frozen beverages. These high-resolution images are going to appear everywhere, so just hang tight. Next, partner up with a great graphic designer that can turn your photographs into attractive, branded marketing pieces.
Here's what you need:
Large, colorful signage at entry points like the front door.
Billboards, banners, or street signs are visible from the road.
Moderately-sized indoor signage is visible from multiple areas in the store.
Promotional signage at registers.
Menu inserts.
Social media graphics for ads and posts.
Promotional copy printed on receipts.
Bag inserts.
Flyers to distribute in the community.
Making money off your frozen beverage or slushie machine takes more than buying a machine. It's a whole product with its own lifecycle requiring market research, sales projections, flavor testing, marketing, and more. If you treat it like an afterthought, your sales volume will be an afterthought. If you treat it like an exciting new addition, your sales volume will reflect that excitement.


The Bottom Line
The difference between a slushie machine and a frozen drink machine comes down to the freezing technology. Slushie machines receive ice and use a mechanism to crush or cut the ice into small pieces, while frozen drink machines freeze water to create tiny ice crystals. Both machines can produce tasty beverages, and both can be used with alcoholic options to enhance your Taco Tuesday offerings. But there are some differences, so knowing what you want to serve is the first step in choosing the right drink machine.