Our Favorite Examples of the Creative Ways Our Customers Make Money With Our Frozen Drink Machines
It's clear that the retail industry is in the middle of many significant transitions. Because of them, businesses are looking for new ways to increase revenue and profitability that are both effective and require minimal effort and expense.
Many businesses turn to the new product lines, hoping to help them retain their current customers by offering them new, exciting parts of their brand. Doing so increases their revenue and decreases costs, as customer retention is significantly cheaper than customer acquisition, and adding more products into the market keeps consumers interested.
When looking for a new product line to add, there's a reason why 70% of the world's convenience stores have already chosen to add a frozen drink machine.
Not only is demand for frozen drinks strong and expected to continue to grow, but the simple ingredients and ease-of-operation mean retailers can generate profits of 70% to 120% with the right frozen beverage program. Convenience retail isn't the only industry to realize the clear benefits of offering frozen drink machines. You can also find commercial frozen beverage machines driving traffic and revenue in quick-service restaurants, movie theaters, amusement parks, large retail establishments, hotels, and even bars.
Over the years, we've witnessed many creative ways our customers have used FBD frozen drink machines to make money.
Here are 9 of our favorite examples:
1. Drive Foot Traffic
While frozen beverages provide a great way to generate revenue and profits, the first challenge is convincing potential customers to stop and come into your store. Having bright, colorful, eye-catching signage outside your store is one of the most effective ways to accomplish this.
One advantage of featuring frozen drinks on your signage is the wide variety of eye-catching flavors and colors that these drinks come in. Frozen drink machines can also feature bright, distinctive product advertising directly on the front of the unit that can help drive sales, including limited-time promotions, food pairings, and discounts.
Whether it's an attention-grabbing, branded vending machine, colorful displays at the point-of-sale, promotional signs, and window wraps, branded cups, and lids, frozen carbonated beverages give you a plethora of new ways to stand out and drive foot traffic to your store.


2. Encourage Impulse Purchases
Frozen drink machines can command high prices and drive impulse purchases, as frozen beverages are premium products that can only be found at certain retailers, and they can't easily be made at home. In fact, almost 50% of all frozen beverage purchases are impulse buys. Half of those were made because the product looked good or the consumer saw an interesting color or syrup flavor.
Additionally, a frozen drink machine can be placed at the back or side of the store to encourage customers to walk through aisles and past products and supplies they would otherwise overlook. This is one of the most effective ways to drive even more impulse purchases of all the other products in your store.


3. Expand Your Menu and Add Variety
A recent study shows that having a good menu variety is one of the most important factors consumers consider when visiting a convenience store. The same is true for other businesses. Offering new, exciting products is one of the best ways for retailers to quickly increase foot traffic and profit. But, finding profitable items that customers love can be challenging.
If you're looking for fun and exciting products that draw customers in and maximize profits, few products beat frozen drinks.
One of the methods that can increase your vending machine profitability even further is rotating your most popular drink flavors and food items. By regularly rotating these products, you can drive repeat purchases from customers looking to try something new and from customers coming back because their favorite flavor is available again.
For even more variety, our Multi-Flavor dispensers allow customers to choose up to 2 base flavors and then add up to 8 additional flavors to create a unique frozen cocktail that's perfect just for them. A quality frozen drink machine features a simple touchscreen interface that allows customers to easily select their desired flavor combination. With a tap of a finger, customers can instantly mix the frozen drink and flavor of their choice, such as:
A frozen drink with a shot of their favorite flavor and spirit, such as Margaritas, Vodka Lemonade, Sangrias, or Jack & Coke
Frozen lemonade mixed with strawberry, mango, blueberry, or peach
Frozen coffees with a shot of mocha, caramel, hazelnut, or french vanilla
Frozen tea mixed with peach, mango, strawberry, or lemonade for a new take on the classic Arnold Palmer
Multi-Flavor frozen drink machines are ideal for locations with limited retail space and a broader target audience with constantly changing demands.
Set up a profitable frozen program, specific to your unique needs. Start Your Frozen Program
4. Increase Upsell Opportunities
If you aren't suggesting additional items to customers during the ordering or check-out process, you're simply leaving money on the table. Upselling to existing customers is far cheaper and easier than acquiring new customers. In addition, you can dramatically increase a customer's lifetime value if a successful upsell permanently changes their buying habits into the future.
Frozen drinks offer an excellent opportunity for employees to recommend customers try an exciting, new product that will keep them coming back over and over.


5. Create Unique Promotions
Another effective way to generate higher foot traffic and sales is to incentivize customers with price discounts and special promotions on popular products.
Frozen carbonated beverages and soda machines can give you a whole range of unique promotional options, including:
Offering a discount on items that are often bought together is a great way to increase the value of each transaction and drive more sales. For example, many convenience stores offer promotions that pair a hot dog with a carbonated or frozen carbonated beverage.
Store-exclusive and limited-time flavors
You can generate demand and increase sales by offering store-exclusive frozen drink flavors, flavors that are only available for a limited time, or flavors only available during a specific season or a holiday. This is even more effective if the promotion is associated with a popular trend, such as the release of a new video game or movie that customers are already interested in and talking about.
"Happy Hour" promotions to drive sales during off-peak hours
For many retailers, lagging sales during slow, off-peak hours or days of the week is a high-priority problem to solve. The key is to either entice existing customers to visit again at a different time of day, come in an additional day of the week, or draw a whole new group of customers to visit. Many of our partners offer frozen drinks as a "Happy Hour" special between lunch and dinner to drive sales and fill in typically slow hours.


6. Increase Customer Loyalty
Loyalty programs are a great way to reward customers and make them feel appreciated while also incentivizing them to come back and purchase from you over and over. By offering an incentive after a certain number of purchases from your frozen drink machine program (for example, buy 10 frozen beverages, get 1 free), you can give your customers something to look forward to and a reason to frequently visit your store.
Keep your customers engaged with a traditional punch card system or take things digital with an online rewards program or even a mobile app. Aside from driving more sign-ups, the added benefit of using an app is that retailers can now continue to push out promotions to customers directly on their phones for as long as the customer has the app installed.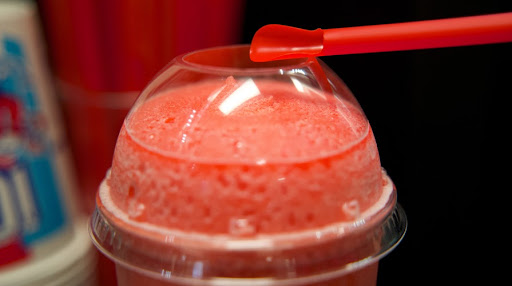 7. Drive Word of Mouth and Social Media Sharing
Innovative, self-service options that come with some vending machines provide customers with exactly the kinds of memorable experiences that can help set you apart from your competitors. With our Multi-Flavor machines, customers can have endless fun creating their own concoctions and experimental mixes. These fun, unique, and memorable experiences not only drive repeat purchases but also give your customers something to talk about with their friends.
In addition, the colorful, eye-catching flavor combinations are perfect for snapping a picture of and sharing on social media. Both words of mouth and social media sharing attract new customers to your store without you having to spend valuable marketing dollars.


8. Cut Training and Operating Costs
The only thing better than profit is not having to spend the money you already worked hard to earn. In our current economic climate, every penny counts, and retailers must be vigilant to cut down on rising costs and unnecessary waste wherever they occur.
When the right machine is low maintenance and comes with equipment that's easy to operate by staff, business owners don't have to spend nearly as much time on training. In addition, maintenance, service, and repairs all become much easier and faster, which maximizes uptime and profitability. Not to mention, quality, low maintenance equipment saves you the money you would otherwise set aside for an insurance company.
With our frozen drink machines, as long as you keep the water on and the syrup and CO₂ full, you will pour frozen drinks for a whole year before you have to do any routine maintenance on them.
Because our equipment is incredibly easy to operate by both staff and consumers, you can expect to see significantly lower labor and training costs and increased customer satisfaction. In addition, our FCB machines are built with high-quality materials and parts and are designed to last 7-10 years. In comparison, an open bowl system will only last 3-5 years, on average.


9. Boost Profits by 70% to 120%
Not only are frozen drinks popular, but they are also an extremely profitable product for retailers. This extremely high level of profitability is due mainly to the fact that 50% of a poured frozen carbonated beverage drink is CO₂ (air), and 40% is water.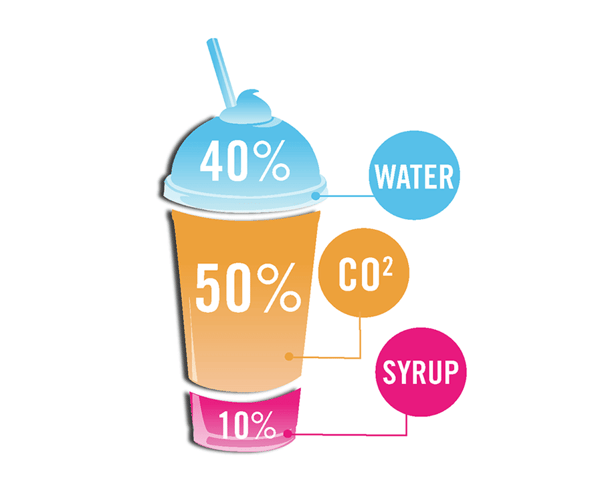 Frozen drink machines can give you 20% greater margins than fountain drinks that use more water and double what you earn from a canned beverage. Retailers can easily see 70% to 120% gross profits with the right Frozen Beverage Program.
You can use our ROI calculator to estimate what profit margins you can expect and how quickly you can expect to see a return on your investment.Set up a profitable frozen program, specific to your unique needs. Start Your Frozen Program
Ready to learn more about starting your own highly-profitable, Frozen Beverage Program?
FBD Frozen is trusted by 80% of the world's frozen beverage retailers.
Whether you run a movie theater, a convenience store, a quick-serve restaurant, a bar, or an institution, we have the reliable equipment and responsive support team to help you get your profitable frozen beverage program started today!