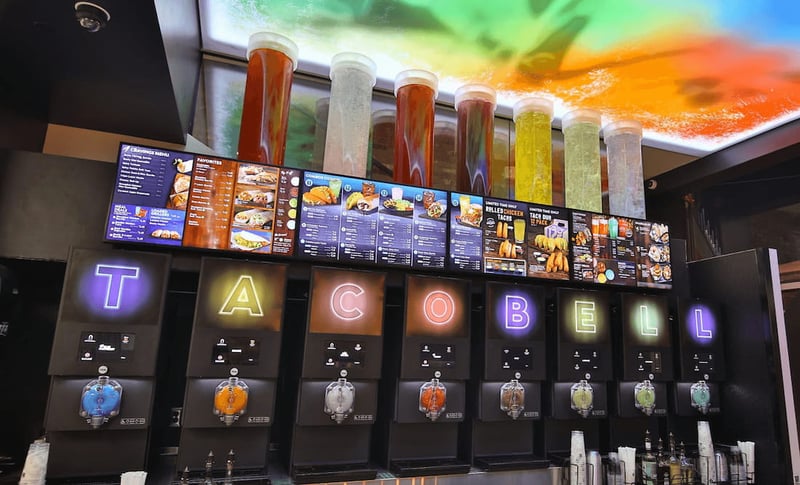 For convenience stores, frozen beverages have been a constant for decades. In recent years, however, improved dispensers have created a tidal wave of innovation, introducing new products and flavors across the world.
With these innovations, a growth in demand, and low costs, commercial frozen drink machines have found themselves in most profitable franchises across multiple industries – from traditional gas stations all the way to cruise ships. But what's the reason behind the trend of profitable franchises serving frozen beverages?
In this article, we will explore the five primary reasons that franchise owners choose to add frozen beverage dispensers to their operation.
5 Reasons Franchises Offer Frozen Beverages
1. High Demand
Of the many reasons that most profitable franchises across the world add frozen beverages to their menu, high demand is perhaps the most self-explanatory.
While many people think of frozen drinks as a seasonally popular item, consumer habits suggest the exact opposite. In fact, marketing data asserts that frozen beverages amass large sales throughout the year, even in colder climates.
Since 2017, several studies have been published that show frozen beverages are not only popular items, but rising sharply in demand. Some of the most suggestive data points are:
On average, drinks account for one out of every $5 consumers spend away from their homes (

Technomic Inc.

);
More than half of surveyed consumers said they purchased a beverage at least once per week, 20% say they did so daily (

GasBuddy

);
In the last month, 51% of consumers reported ordering a frozen beverage (

Technomic Inc.

);
30% of consumers reported they purchased frozen beverages more frequently than in previous years (

Technomic Inc.

);
Due to high demand and ease of operation, frozen beverage dispensers are used in over 80% of the world's gas stations and convenience stores;
With the rise in popularity, C-stores are expanding their drink menus by offering 64% more slush/frozen drink products (

Mintel

).
Because of the obvious demand, it's not hard to understand why most profitable franchises are adding a commercial frozen beverage machine to their operation – with a robust base of consumers craving them, frozen drinks seem certain to increase profits.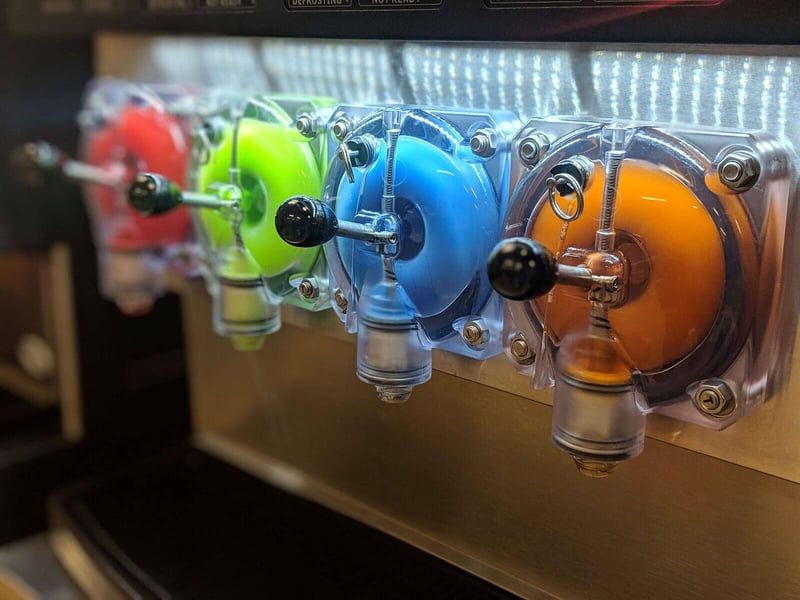 2. High-Profit Margins
Along with their rapidly growing popularity, frozen beverages are incredibly high-margin products – even boasting 20% higher margins than traditional soda fountains.
Composed of 10% syrup, 50% CO2, and 40% water, slush drinks cost a fraction of retail price. In fact, accounting for supplies (cups, lids, straws, etc), the average frozen carbonated beverage costs less than 50 cents to produce. With impulse sales retailing as high as $7 in some industries, the profit potential is unmatched. In fact, franchises that charge half that price could easily yield $20,000 in profit from their commercial machines, depending on their size and location.
To be frank, after paying back the initial investment, frozen beverage dispensers are just about guaranteed to run a profit.
Of course, commercial frozen beverage dispensers are only valuable if they have a product to sell – down times, especially during peak periods, mean losses in revenue and profit. As a result, the most effective machines not only have high-margins, but high capacity.
Leading the industry, FBD Frozen's commercial-grade dispensers have unmatched capacity – especially compared to traditional standard bowl systems. Granita machines, for example, produce 48 frozen beverages per hour, while a small FBD unit like the 37X pours 105 cups per hour.
Even with one of the smallest capacities in FBD's product line, the 37X produces enough drinks to increase sales by as much as 120%.
With high demand, low costs, and large capacity, it's no wonder why commercial machines are part of the most profitable franchises across the country.
3. Simple Maintenance, Low Down Time
Adding a buffer for profit margins, high quality commercial-grade frozen beverage dispensers offer simple maintenance and long lifespans – minimizing machine downtime and maximizing potential sales.
From the beginning, commercial frozen beverage dispensers are easy to operate. In fact, dispensers are shipped from the factory fully-sanitized and ready-for-use – FBD Frozen even offers partners setup assistance.
FBD dispensers also leverage a closed, sealed system in conjunction with Bag-in-Box (BiB) technology, making refills and routine cleaning simple endeavors. As a result, FBD machines can go a year without routine maintenance, unlike traditional slush and granita machines which require daily cleanings.
Advanced technology makes it even easier to keep machines running efficiently.
Along with simple maintenance, commercial-grade machines like FBD Frozen's frozen carbonated beverage dispensers have significantly longer lifespans than traditional bowl systems. While granitas have an average lifespan of 3-5 years, FBD's machines are designed for 7-10 years of operations.
With longer lifespans and simpler maintenance demands, commercial dispensers offer unmatched earning potentials, especially when compared to similar products. As a result, most profitable franchises across the country choose to add them to their operation.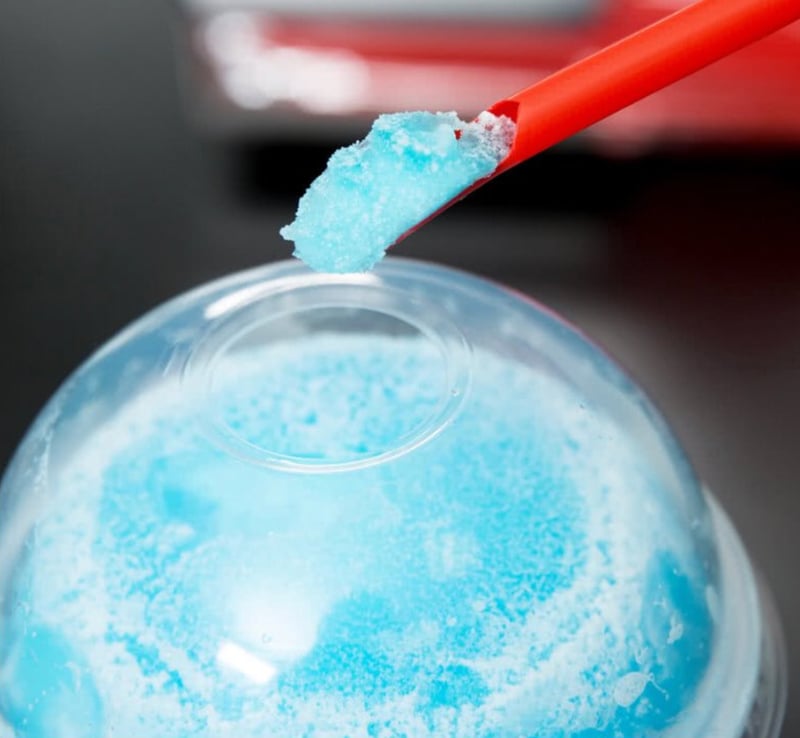 4. Versatile Offerings
Adding to their appeal, frozen beverage dispensers have an extensive list of products they can produce – from different flavors to entirely different types of drinks. This versatility allows franchises to tailor their frozen drink offerings to their target market's needs.
From a flavor perspective, FBD Frozen's Partnership Program offers a catalog of hundreds of syrups to choose from. These flavorings range from classics, like cherry and blue raspberry, to exciting new options, like Mango Chili Lime. Costing only about 2 cents per ounce, franchise owners can even rotate their flavorings with little risk.
To maximize the versatility of flavors, FBD Frozen even offers multi-flavor units, which allow customers to choose a base flavor and up to 8 additional flavors. In total, the unit allows consumers to mix and match 32 different flavor combinations.
Along with different flavors, commercial frozen beverage dispensers also offer a wide variety of types. While the frozen carbonated beverage is what most of us think of when we hear "frozen drink", FBD Frozen also offers machines for nitro-infused, uncarbonated, and alcoholic products.
With these different machines, franchises can produce everything from nitro-infused coffee drinks to classic slushes to frozen margaritas – and just about everywhere in between.
Together, the range of products that can be produced by a frozen beverage machine allow franchises to tailor their menus to the exact needs of their customer base. Whether they're adults looking for a frozen sangria, teens seeking a frozen mocha, or kids clamoring for an iced lemonade, franchises can meet practically any demand their customers want.
As a result, adding a commercial dispenser to their operation is a no-brainer.
5. Appeal Across Multiple Industries
As noted above, frozen beverages have an unprecedented popularity that spreads across a broad range of consumers. As a result, frozen beverages have a natural appeal to multiple industries – meaning dispensers are present in franchises of all kinds.
Leading the way, of course, are convenience stores and gas stations. There, dispensers easily turn a profit on a year-by-year basis as a result of high foot traffic, convenience pricing, and impulse purchasing.
Beyond convenience retail, however, frozen dispensers have also shown dramatic success in adjacent industries like quick service restaurants and bars/nightclubs. In both cases, frozen beverages are a logical addition to nearly any business's menu – easily providing franchises with a new source to generate revenue from.
Additionally, amusement parks, movie theaters, hotels, cruise ships, and even large retail establishments have had success with frozen beverages. Whether in an AMC Theater or Six Flags park, customers have proven they will buy frozen beverages if they're available.
As a result of this mass appeal, franchisees across multiple industries have added commercial frozen beverage dispensers to their operation, including Taco Bell, 7-Eleven, Walt Disney World, and more.
Set up a profitable frozen program, specific to your unique needs. Start Your Frozen Program
How to Add Frozen Beverages to Your Franchise
Supporting over 80% of the world's frozen beverage retailers, FBD's Frozen Beverage Program stands alone at the top of the industry.
Boasting the lowest ownership costs and smallest counter space in the industry, FBD's Frozen Program is perfect for operations of all shapes, sizes, and industries – including convenience stores, QSRs, movie theaters, and more. To help develop the perfect frozen drink program, FBD's team works hand-in-hand with its customers to tailor their units to their store's specific market, capacity, and footprint needs.
To start your Frozen Beverage Program today, simply schedule a call with our team of experts.
During your call, our team will recommend the ideal system for your business and calculate your estimated return on investment (ROI). After, FBD will provide a detailed operations implementation plan, including the set-up and maintenance of your unit. With over 532 unique equipment configurations, FBD is sure to have the perfect unit for every franchise.
What are you waiting for? Start your Frozen Beverage Program now!