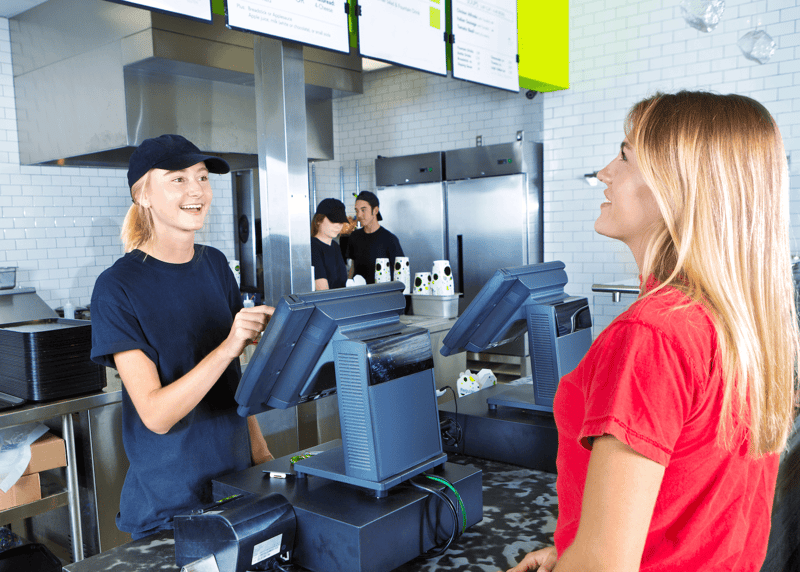 As every quick service restaurant owner knows, simply offering good food at an affordable price is not enough to attract customers. In a cut throat industry like fast food, everyone has decent meals for decent prices, after all.
Instead, QSRs need creative methods to drive customer interest, create loyal customers, and attract new patrons – all with the ultimate goal of driving greater sales.
Undeniably popular year round, frozen drinks are one of the most effective products for increasing sales and overall profit margins in quick service restaurants. With flavors that range from fruits to sodas to coffees, frozen drinks are attractive to just about every type of consumer – there's even frozen daiquiris and margaritas for the 21+ crowd. Even better, frozen drinks have high-margins and low costs, meaning profits are all but guaranteed. Retailers can even expect gross profits of nearly 70-120% depending on their frozen beverage program.
With products that have such high-margins, all it takes is a good strategy to drive more sales. In this article, we will explore such strategies, as well as how you can incorporate them into your quick service restaurant.
Strategies to Grow Your QSR Sales
Point of Purchase Signage
In a saturated industry like QSR, just getting people through the door can be a challenge.
Luckily, signage is a simple, effective, and cheap way to draw attention towards your store.
From long distances, billboards can be used to draw the attention of potential customers, especially if you're located near a major highway or in a densely populated area. Similarly, signs at your entrance and in your windows can draw passerbys.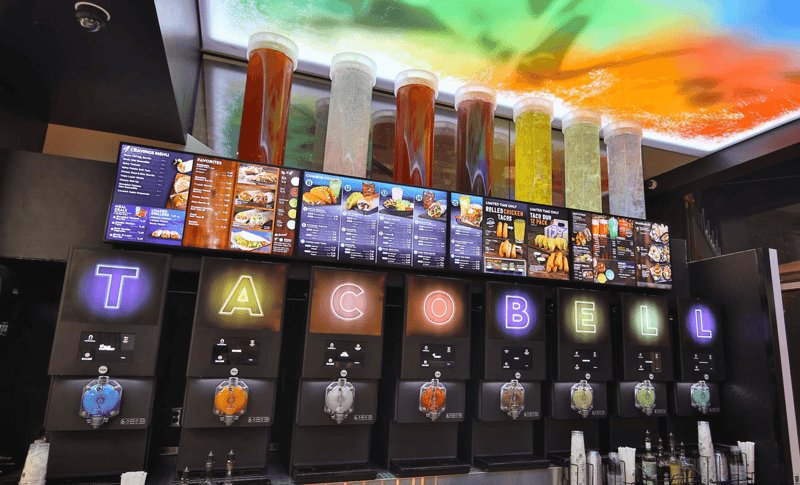 Alternatively, promotional signage in-stores can be used to grow sales. As well Everything from your menu to packaging to space behind the counter can be used to promote your products – the possibilities are nearly endless.
Building upon this concept, FBD's Frozen Beverage Program includes fully customizable advertising and marketing options. Partners can use these ads to promote their limited time offers, announce new products, and more – including seasonal promotions and brand tie-ins.
When it comes to drawing in customers, few methods are as simple as quality point of purchase signage. For a quick and cost-effective strategy, don't overlook this classic marketing approach.
Loyalty and Rewards Program
When it comes to fast food, few things are as valuable as consistent and reliable customers. As a result, it's important to find ways to turn your restaurant's patrons into loyalists.
When it comes to revenue-driving strategies, offering a loyalty and rewards program is easily one of the most effective ways to draw regular customers and foster brand loyalists. Loyalty programs entice customers to return to quick service restaurants by offering discounts, limited time offers, and rewards for being a member, making purchases, and returning frequently.
As the world continues to turn digital, the fast food industry has quickly tied itself to mobile applications – a move prompted by the mainstream use of smartphones. These apps allow customers to receive digital coupons and offers directly on their phone, even if they are nowhere close to a fast food restaurant. By sending deals and promotions, stores can drive more interest and entice customers to stop by.
In terms of loyalty programs with frozen drinks, another great example is Sonic. By creating a loyalty account, customers can get half price drinks any time they order off the mobile app.
As one can expect, however, the hardest part of having a loyalty program is getting people to join it. Typically, fast food companies will offer a reward simply for signing up, which helps increase registrations. For example, Dunkin' offers a free drink with sign-up – something you can do the same with your frozen drinks!
Best of all, having a loyalty app is more valuable than just driving traffic. Beyond being able to alert customers of new discounts and deals, loyalty apps provide stores with customer data that can be used to track the effectiveness of their promotions, as well as send personalized offers.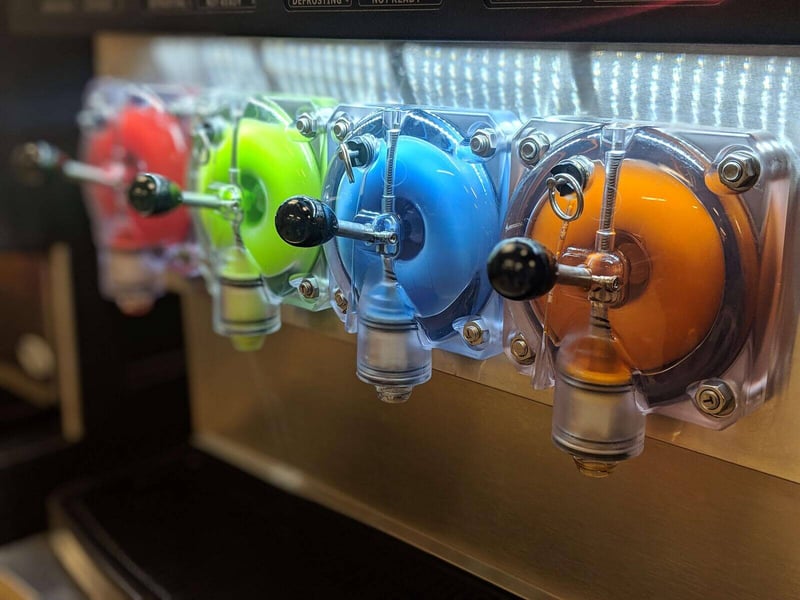 Promotions
While good signage and a strong loyalty program drive foot traffic, a strong promotional strategy can have an even larger impact.
In this section, we will explore four different ways to use promotions and discounts to draw more traffic to your fast food restaurant.
Price Promotions
Fast food and price promotions are practically a natural match. Price promotions entice customers to spend more by offering discounts for bigger purchases – perfect for driving traffic and greater sales.
For example, Taco Bell offered $1 Freezes every Friday from July 1st to July 29th, 2022. By offering a fan favorite at a discounted price, the fast food chain hoped they would catch the attention of customers who would come for the drink, but also spend on food.
Alternatively, you can offer a special on frozen drinks themselves. For example, you can offer two frozen drinks (sold at $3.00 per item) for $5.00 – promoting your customers to spend more with cheaper prices, even though you still profit.
Price promotions are effective because they entice customers to buy more than they initially intended, whether it's two of the same products or additional purchases. Combined with effective signage, these promotions can be incredibly effective at increasing fast food sales.
Product Pairings
Like price promotions, product pairing is a great way to incentivize customers to buy more and increase the value of a transaction – otherwise known as upselling.
Specifically, product pairings offer discounts on items often purchased together, like hamburgers and french fries. This method is especially effective when pairing an underselling product with a popular one. Product pairings are typically branded as "meals" or "combos."
Because of their high-margins and low costs, frozen beverages are a perfect product to pair with a more expensive item. For example, you can offer a frozen lemonade with a hamburger or a frozen mocha with a breakfast sandwich. While the frozen drink is relatively inexpensive, by tying it to a food product you can upsell your customer.
FBD's Frozen Beverage Program is perfect for a product pairing promotional strategy. With hundreds of flavors and over 530 unit configurations, you can tie your drinks directly to your menu, including slushies, frozen coffee, and more!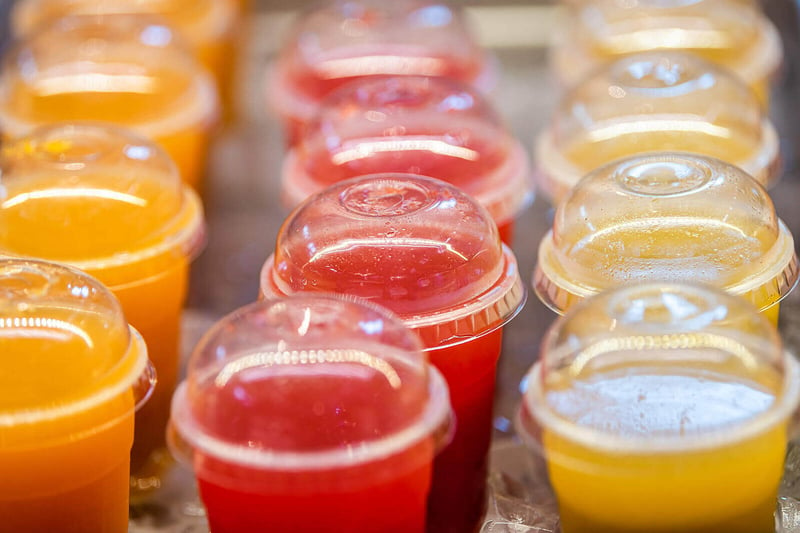 Limited-Time Offers
In addition to product pairings and price promotions, limited-time offers are a simple way to increase more foot traffic for your fast food restaurant.
By tying your products to exciting, exclusive opportunities, you can grow interest and engagement among your customers – leading to more sales. This strategy is especially effective when promotions are associated with popular trends, like Hollywood blockbusters, major holidays, and pop culture moments.
For example, you can offer limited-edition cups for your frozen drinks that have branding for the newest box office smash – who wouldn't want to drink their blueberry slushie out of a Top Gun themed cup?
Limited-time offers can also be for the product themselves. With frozen carbonated beverages in particular, you can offer exclusive flavors only available for the season. FBD's Frozen Beverage Program even offers multi-flavor machines, which can create 32 unique drink combinations at a time.
Off-Peak Hours Promotions
As every fast food owner knows, sales can lag – if not completely halt – during slow, off-peak hours. These periods often occur during late evening and early morning, as well as mid-day during the school year.
While many QSRs factor this time into their budgets, every store is looking for the opportunity to increase their sales during off-hours. The key to driving more revenue during off-peak hours is relatively simple: attract loyal customers and new customers to your business.
One of the best strategies to do this is to offer off-peak hour promotions. As the name implies, off-peak hour promotions offer discount prices on certain prices during low traffic periods. For example, Dunkin', whose primary business is coffee and donuts, offers "Happy Hour" discounts on its medium-sized coffee and tea from 3pm to 6pm each day.
For your restaurant, you should look to create promotions for your own off-hours. Some common strategies for this include:
Special promotions offered during during low volume hours (Early Bird specials, Happy Hours, Late-Night specials)
Coupons only redeemable during slow hours/days
Item and products only available during slow hours/days

Word-of-Mouth Marketing
As every business professional knows, no strategy is more effective than word-of-mouth marketing.
Unlike any type of promotion or discount, word-of-mouth marketing relies on customers discussing and sharing your product. Unlike ads or signage, peer-to-peer marketing feels significantly more organic, which creates greater interest among consumers.
Even so, it's not completely natural. Good word-of-mouth campaigns look to "plant a seed" about a product in customers' heads, with the hope that they will expand the message's reach.
Take Starbucks' Pumpkin Spice Latte for example. While their promotions and signage got the drink into their customer's hands, it was the consumers that created a cult following around it. Now when Starbucks makes the drink available, they receive unprecedented free marketing from the thousands of excited consumers alerting their friends – all of which pushes more people to the drive-thru line.
Like the fall drink, frozen beverages can be a great way to create word-of-mouth marketing for your business. According to a study by Technomic, 51% of consumers reported they purchased a frozen beverage in the last month. With so much popularity, it just takes the right campaign idea to get them talking.
Expanded Product Offerings
In the world of quick service restaurants, high volume purchases of high-margin products is the name of the game.
While popular items will create a steady stream of sales, it's important to consistently offer new products to customers engaged and interested. These products can be variants on classics, new releases, or seasonal offerings – like McDonald's McRib and Shamrock Shake.
By rotating popular products and introducing new offerings, you can create buzz around your QSR, leading to more foot traffic and greater profits – especially when promoted with custom signage.
With hundreds of flavors to choose from, frozen beverages are a perfect product to use to expand your offerings. FBD units even allow you to continue to serve fan favorites, like Cherry and Blue Raspberry, while rotating in new flavors to drive interest. You can even tailor your drink menu to season – pumpkin slushies in the fall, frozen lemonade in the spring, and so much more!
When it comes to growing your sales, consider adding more frozen products to your menu!
Set up a profitable frozen program, specific to your unique needs. Start Your Frozen Program
How to Add Frozen Beverages to Your QSR Menu
FBD's Frozen Beverage Program is trusted by 80% of the world's frozen beverage retailers, including Taco Bell, Burger King, PepsiCo, and Coca-Cola.
With the smallest counter space and lowest ownership costs in the industry, FBD's Frozen Program is perfect for QSRs of all shapes and sizes. Our team works hand-in-hand with our customers to develop the perfect frozen drink program for their store's local market, capacity and footprint needs.
To start your Frozen Beverage Program, first schedule a call with our team of experts. During your call, our team will recommend the ideal system for your business, including customizable configurations, as well as calculate your estimated return on investment (ROI). After, we'll provide a detailed operations implementation plan, including the set-up and maintenance of your unit.
With over 532 unique equipment configurations, we are sure to have the perfect set up for your QSR, no matter its size or shape. To start your Frozen Beverage Program today, click here.