In a fiercely competitive industry with razor-thin margins, Convenience Stores face many challenges, the least of which are generating a high enough volume of sales to become profitable.
First, you must you entice lots of customers to stop in to visit your store in the first place.
Then, you then have to offer the right products in the right places to encourage impulse buys from busy customers who want to get in and out as fast as possible.
With these challenges in mind, here are the top 5 tips Convenience Stores can use to drive more foot traffic and increase sales.

Photo Credit: 4sonsstores.com
1. Optimize Signage
As we mentioned above, the very first challenge you must overcome in order to increase sales is to get customers in the door.
As customers are driving down the road, the most obvious way to get their attention and convince them to stop at your store is to display your fuel prices prominently, especially if they are cheaper than competitors.
In addition, diesel signs often attract even more customers than regular gas signs, as not every Convenience Store offers diesel fuel.
After your fuel signs are in place, make sure you are clearly advertising your most popular and profitable products, whether that's:
At the pump
Near the entrances
On your windows
On curbs near the street
Within the store itself in high traffic areas
Bright and colorful signage is far better at attracting attention than plain or black and white signage. One advantage of featuring a product like frozen carbonated beverages on your signage is the wide variety of eye-catching flavors and colors that these drinks come in.
Frozen carbonated beverage machines can also feature bright, distinctive product advertising directly on the front of the unit that help drive sales, including limited time promotions, food pairings, and discounts.
In addition, consider using flags to draw more attention from passersby, as well.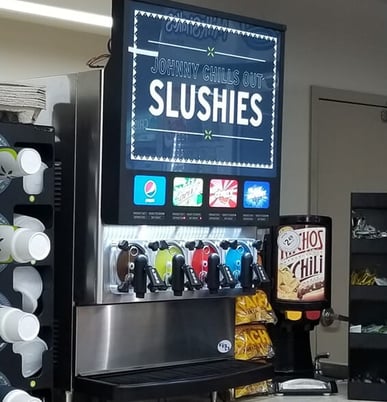 2. Offer Unique Discounts and Promotions
Another effective way to generate higher foot traffic and sales is to incentivize customers with price discounts and special promotions on popular products.
Price Promotions
A common promotion is "Buy 2 for $X". If the original price of the product is $1.50, and customers can buy 2 for $2.50, they are spending $1 more than they originally planned in order to get the $0.50 discount. This strategy is a great way to increase the average value of each transaction and boost revenue quickly.
Food Pairings
Offering a discount on items that are often bought together is another great way to increase the value of each transaction and drive more sales.
For example, many Convenience Stores offer promotions that pair a hot dog with a carbonated or frozen carbonated beverage.
If you need to drive sales of a particular product that is currently underselling, consider bundling it at a discount with a popular product that customers are going to buy anyways.
Exclusive and Limited-Time Promotions
Another very effective way to increase sales is to offer a new, exciting, and exclusive product for a limited time only. This is even more effective if the promotion is associated with a popular trend, such as the release of a new Blockbuster movie that customers are already interested in and talking about.
By offering frozen carbonated beverages, for example, you can generate demand and increase sales by offering exclusive flavors that are only available for a limited time, or only during a specific season.
Free Samples
If you want customers to come in and try a new product, a surefire way to accomplish this is to offer a free sample. Make sure to advertise these free samples on your signage to get the attention of drivers and pedestrians passing by your store.
Member-Only Discounts
Also, consider offering special discounts and specials exclusively for members of your loyalty program, or for customers who sign up for your app. This encourages customers to sign up for the loyalty program or app, which gives you even more ways to market to them and incentivize them to make repeat purchases in the future.
Promotions to Drive Foot Traffic During Off-Peak Hours
For many Convenience Stores, lagging sales during slow, off-peak hours or days of the week is a high-priority problem to solve.
The key is to either entice existing customers to visit again at a different time of day, come in an additional day of the week, or to entice a whole new group of customers to visit.
A few ideas for driving foot traffic during slow hours or days of the week:
Offer coupons to customers that can only be redeemed during slow hours or days of the week.

Offer prepared food and drinks that are available only during slow hours or days of the week.

Offer special promotions during slow hours or days of the week. Examples include Early Bird specials, Happy Hours, and Late-Night specials.

Offer lighter, snack-sized prepared foods that customers can consume in-between normal meal times.
Calculate the ROI of your New Frozen Beverage Machine
3. Offer a Loyalty Program
Loyalty programs are a great way to reward customers for their loyalty, make them feel appreciated, and also incentivize them to come back and purchase from you over and over.
The keys to a successful loyalty program are:
1. Making customers sufficiently aware of your loyalty program in the first place
Again, signage is a good option for increasing awareness of your loyalty program.
Consider mentioning your loyalty program in your existing advertising efforts, and also create additional advertising specifically to promote it to increase awareness and sign-ups.
You will also need to train employees to inform customers of your new loyalty program and offer them the opportunity to sign up.
2. A good enough incentive for customers to take time to sign up
Convenience Store customers want to get in and out as fast as possible. After all, convenience is the main reason they are stopping into your store in the first place.
If you want them to take the time to sign up for your loyalty program or app, you have to give them a very good incentive. Make sure that the discounts and promotions they will receive outweigh the inconvenience of signing up.
Offer Sign-Ups Through an App
Many Convenience Store chains have discovered that the easiest way for a customer to sign up for a loyalty program is to offer it inside an app they can simply download to their phone. Aside from driving more sign-ups, the added benefit for Convenience Stores is that they can now continue to push out promotions to customers directly on their phone for as long as the customer has the app installed.
By offering your loyalty program through an app, you can also offer digital coupons that must be scanned in order to be redeemed at the register. With these digital coupons, you can not only track the effectiveness of your promotions, you can also track data on a customer's purchases, and use this data to send them more personalized promotions.
The upfront cost of having an app developed is vastly outweighed by the increase in repeat purchases, revenue, and profitability over the long-term.
4. Optimize Store Layout
Tactics such as putting popular products near the cash register and optimizing the use of end-caps are common knowledge. However, there are a few tactics that are lesser-known, but still extremely effective.
Occasionally Re-Arrange Your Store Layout
Once you have successfully gotten someone's attention and turned them into a loyal customer, the challenge now is to get them to try new products and make larger transactions each time they stop in.
Unfortunately, once customers get used to the store layout and know exactly where to get what they need, they rarely notice new products. By re-arranging the layout of your store occasionally, you make customers look around more, increasing the chances that they will notice a new product that they are tempted to try.
Make Sure Profitable Items are Visible From the Front Entrance
Not only do you want to make a good first impression when customers walk in the door, you also want to immediately guide them to the products that are the most popular and profitable.
Make sure that your most profitable products, such as your carbonated and frozen carbonated beverages, are prominent and highly-visible the moment customers enter your store.
Even if they are placed at the back or sides of your store, make sure there is proper signage that makes them stand out and easy to spot.
Place Popular Products at the Back
Another popular tactic that grocery stores use is to put the most purchased items around the sides and back of the store. This forces customers to walk through aisles and past products they would otherwise overlook in order to get to the products they're looking for.
Place Most Popular Products at Opposite Ends
In addition, don't put your most popular products near each other. By placing them at opposite ends of the store, customers must walk through the entire store to get to all of the products they need.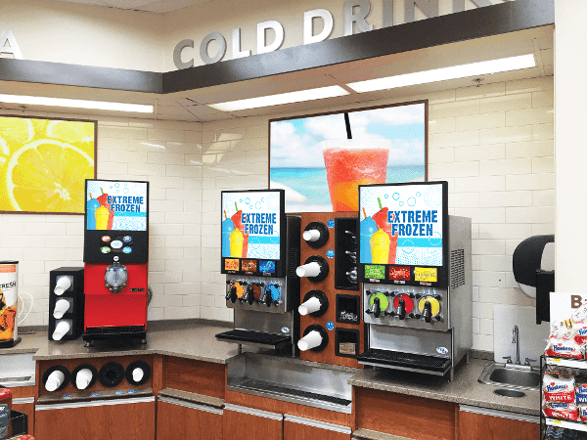 5. Sell a Variety of Popular Products
Every business knows that they must offer the products customers want to buy, but you also need to make sure you are giving customers enough variety to keep them engaged and interested.
Don't just offer limited-time products and drink flavors, but also considering rotating your most popular drink flavors and prepared food items. By regularly rotating these products, you can drive repeat purchases from customers looking to try something new, and from customers who are coming back because their favorite flavor is available again.
Rotating also allows you to add new products and flavors into the rotation as a test to see how popular they are. This can help you make better decisions about what products and flavors to add permanently.
Drive Foot Traffic and Achieve Up to 70% Profit Margins by Offering Frozen Carbonated Beverages
Expanding product offerings is one of the best ways for Convenience Stores to quickly increase foot traffic and sales, but finding profitable items that customers love can be challenging. To fill this need, more and more Convenience Stores are turning to frozen carbonated beverages because of fast-growing demand, high profit margins, small footprint, and low maintenance.
When it comes to fun and exciting products that draw customers in, and also maximize profits, few products beat frozen carbonated beverages.
Eye-Catching Marketing Materials in High-Traffic Areas
Whether its an attention-grabbing, branded dispenser, displays at the point-of-sale, promotional signs and window wraps, or even branded cups and lids, frozen carbonated beverages give you a plethora of new ways to stand out and drive foot traffic to your store.
Because of their popularity, frozen carbonated beverage machines can be placed at the back or sides of the store to encourage customers to walk through the store past products they would otherwise overlook.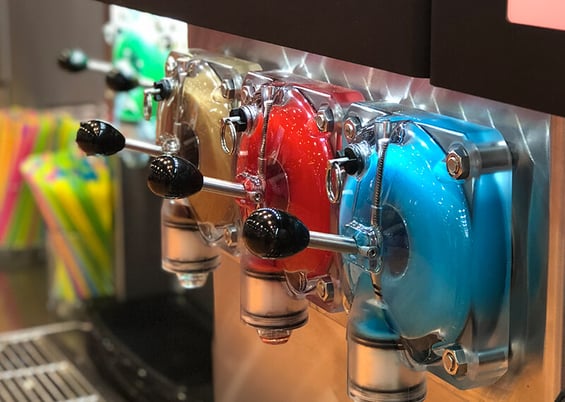 Promotional Options
Frozen carbonated beverages give you a plethora of promotional options, including:
Food pairings
Rotating, limited-time flavors
Limited-time price discounts
Store-exclusive flavors
"Happy Hour" promotions to drive sales during off-peak hours
Fun and Interactive
Frozen carbonated beverages allow you to create fun customer experiences with colorful interactive visual merchandising and unique products that drive more foot traffic and sales to your store.
Take advantage of this opportunity to help consumers quench their thirst with these enticing frozen concoctions, and increase your location's foot traffic by offering consumers beverages that provide a fun, unique, and memorable experience.
Highly Profitable
Commercial frozen drink dispensers require minimal ingredients and have the potential to create a highly profitable product offering.
In fact, the profit margins of frozen carbonated beverages are up to double that of canned beverages and potentially 20% higher than fountain drinks. In comparison to fountain drinks, frozen carbonated beverages benefit from higher price points and less promotional expenses, especially during the summer.
This extremely high level of profitability is mostly due to the fact that 50% of a poured frozen carbonated beverage drink is CO₂ (air) and 40% is water.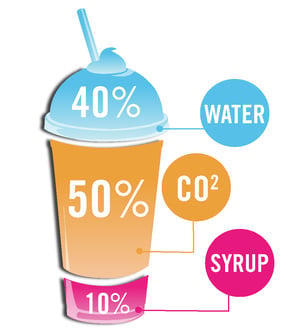 The simple ingredients that go into preparing frozen beverages allow your convenience stores to achieve gross profits of up to 70%.
Reliable and Easy to Operate
Bag-in-box syrup packaging makes it easy to refill machines without making a mess mixing product or taking them offline for time-consuming and labor-intensive sanitation routines. Common serviceable parts are accessible from the front of the unit, making servicing quick and easy. In addition, each unit is equipped with built-in diagnostics to help operators troubleshoot and service equipment with ease.
Lower Downtime
Keep the water on and the syrup and CO₂ full, and your machine can pour frozen drinks for a whole year before you have to do any routine maintenance on it. The main reason units can go a full year without maintenance is because it is a closed, sealed system with a stainless steel cylinder and high acid product which, combined with CO2, will not allow bacteria to grow. In comparison, open bowl systems must be cleaned and maintained weekly, leading to dramatically higher downtime and lost revenue. Advanced technology keeps our machines machines running efficiently with minimal upkeep.
Higher Capacity
Even a smaller dispenser, such as the FBD 37X series, can pour 105 cups per hour compared to only 48 cups per hour with a standard, open bowl system. Running out of product means lost revenue and lower profitability. Higher capacity dispensers ensure you have enough product during peak times with high foot traffic and customer demand.
Higher Durability
Our FCB machines are built with high-quality materials and parts, and are designed to last 7-10 years. In comparison, an open bowl system will only last 3-5 years, on average.
Exciting Flavor Combinations with On-Trend Ingredients: 37% of teens and millennials choose a store location that allows them to customize colors and flavors, according to the Coca-Cola FCB Flavor Exploration Study, 2015.
Set up a profitable frozen program, specific to your unique needs. Start Your Frozen Program
Ready to learn more about starting your own highly-profitable, Frozen Beverage Program?
FBD Frozen is trusted by 80% of the world's frozen beverage retailers. We have the reliable equipment and responsive support team to help get your Convenience Store's profitable frozen beverage program started today!
We work hand-in-hand with you to create a Frozen Beverage Program that addresses your specific capacity and footprint needs and meets shifting market demands. Whether dealing with seasonality, new technology, or changing market trends, FBD's team of experts will help you adapt your frozen beverage program to maximize your margins.
With over 532 unique equipment configurations, we can completely transform the interface of our machines, whether crew-served or self-serve, to align with your marketing needs.
Let's Get Started Building Your Profitable Frozen Program Today!
Schedule a call to have one of our experts help you:
Recommend the ideal products for your specific type of location
Identify the right equipment and customization
Estimate your ROI
Provide an operations implementation plan including labor, maintenance savings estimates.