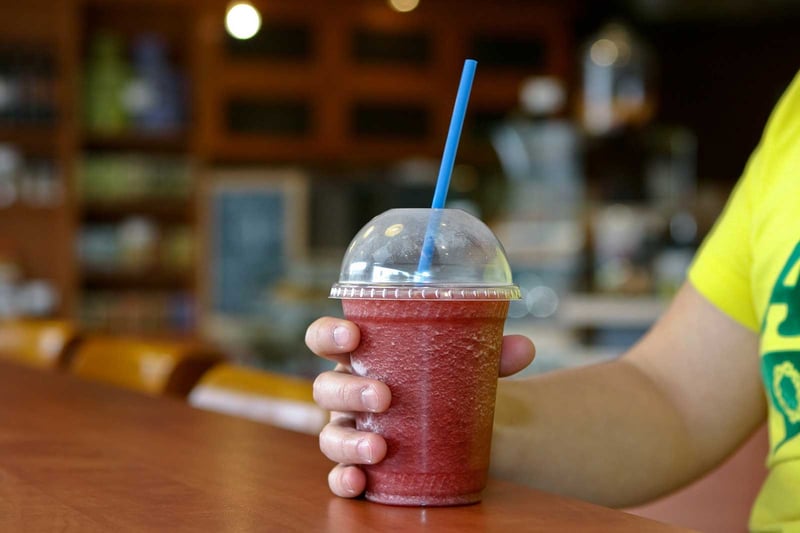 When it comes to refreshing drinks, nothing beats a frosty, frozen beverage. Whether your customers are looking to cool off on a hot summer day or simply want a delicious treat, a frozen beverage machine can offer a wide range of options to satisfy their thirst.
In the world of beverages, few seem to have as much upside as high-margin frozen drinks. From slushies and smoothies to frozen carbonated and nitro-infused beverages, having a machine that can efficiently create these drinks should be an essential component in any food service business.
Versatility is a large contributor to the broad appeal of frozen beverages. With high-quality frozen programs, you can offer a wide range of drinks that cater to the ever-changing tastes of your customers. From classic flavors like strawberry and lemonade to more innovative combinations like mango habanero, there are limitless possibilities that your customers can explore.
In this article, we'll talk about the different types of drinks you can make with commercial frozen drink machines and some of the most popular options available today. So, grab a straw, and let's dive into the world of frozen drinks!
Benefits of Frozen Beverage Machines
A frozen beverage machine is a great addition to any food service business because of its convenience and high-margin potential. Not only can these machines save your business time and money by eliminating the need for manual labor, but they also increase customer satisfaction with fast delivery of drinks. The FBD Frozen Beverage Program, in particular, offers the best-performing systems in the industry, keeping costs at a minimum to improve profit margins.
The top benefits of investing in a frozen beverage machine include the following:
Increased Revenue
With margins 20% greater than traditional fountain drinks, frozen beverages are an easy way to boost revenue. Offering a variety of frozen drinks allows customers to explore new and exciting flavors, which will attract new ones and keep existing customers coming back for more. With a frozen beverage machine, you can expect to see an immediate uptick in both customer satisfaction and revenue.
Easy to Use
A commercial frozen drink machine is easy to use and maintain, keeping training costs at a minimum and making it a practical option for businesses of any size. With just a few simple steps, you can create consistent, high-quality frozen drinks that your customers will love.
Versatility
As mentioned earlier, frozen beverage machines offer versatility when it comes to the types of drinks you can create. You can customize flavors, textures, and even add-ins to cater to your customers' preferences. This versatility can help you stay ahead of the competition and provide unique offerings that set your business apart.
Minimal Labor Costs
Most frozen beverage dispensers are designed to be self-serve, which means customers can help themselves to their favorite drinks. This reduces the need for additional staff, making it a cost-effective option for your businesses.
High Demand
Frozen drinks are always in high demand, especially during the summer months. They are undeniably popular among kids and adults alike, meaning that you can expect a significant return on investment when adding frozen beverages to your menu.
Low Maintenance Requirements
Frozen beverage machines are designed to be low maintenance, meaning you won't have to dedicate too many resources to keep them running. FBD units use a Bag-in-Box technology and a closed seal system. As a result, they can serve frozen drinks for a year without routine maintenance or cleaning. Additional diagnostic technology, as well as 24/7 technical support, keep downtime to a minimum.
Customizable Marketing
FBD Frozen Beverage programs offer customizable marketing options, allowing you to personalize the branding on your units so you can increase brand visibility and awareness. From eye-catching graphics to branded cups and straws, you can find ways to make your business stand out from the competition.
Quick and Convenient
Frozen beverages offer convenience and speed without sacrificing quality. As a result, customers can quickly and conveniently get the drinks they crave without waiting too long. This is especially important during busy times when speed and efficiency are of the utmost importance.
Drinks You Can Get With Frozen Beverage Machines
Now that we've covered the benefits of investing in a frozen beverage machine, let's take a closer look at the types of drinks you can serve with FBD machines. FBD's Frozen Beverage Program offers 532 unit configurations and hundreds of syrup flavors. From classic slushies to unique combinations, there is no shortage of options to choose from.
Here are some of the most popular drinks you can serve with FBD units:
Frozen Carbonated Beverages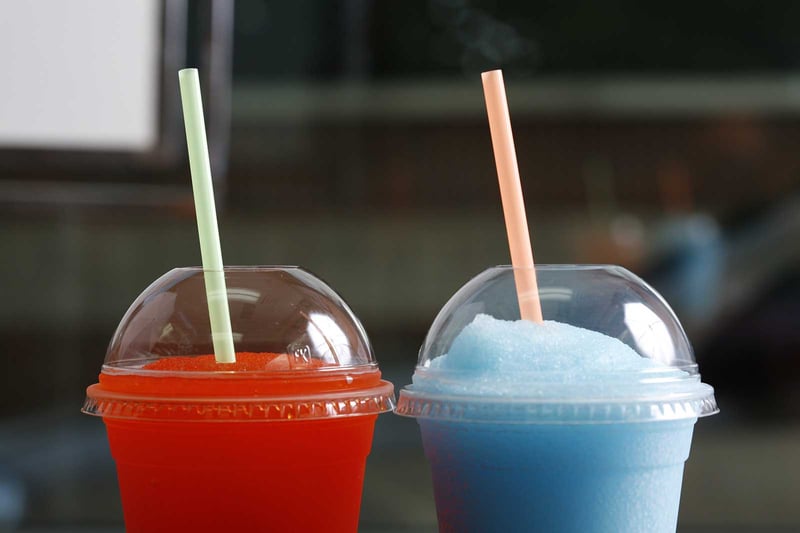 FCBs are a refreshing and fizzy treat that customers love. They come in various colors and flavors, making it easy to customize your offering for your customers' tastes. A commercial frozen drink machine combines water, carbon dioxide, and flavored syrup in a closed-seal system, surrounding the beverage with a refrigerant to cool it below freezing temperature. A combination of sugar, CO₂, and pressure (approximately 40 P.S.I.) keeps the mixtures from freezing. This creates a slushy, icy texture similar to a soft drink but smoother consistency.
Typically, frozen carbonated beverage machines can be programmed to create iced versions of popular soft drinks, juices, or energy drinks – similar to slushies and granitas. With the Frozen Beverage Program, you can choose from hundreds of different syrup flavors, including classics like lemon-lime, orange cream, cherry pomegranate, and more, and well-known brand favorites like Coca-Cola, Pepsi, Mountain Dew, and Dr. Pepper.
Examples of popular frozen carbonated beverages include:
ICEE
Slurpee (7-Eleven)
KOOLEE (Kum & Go)
FREEZONI (QuikTrip)
Frozen Baja Blast (Taco Bell)
Frozen Uncarbonated Beverages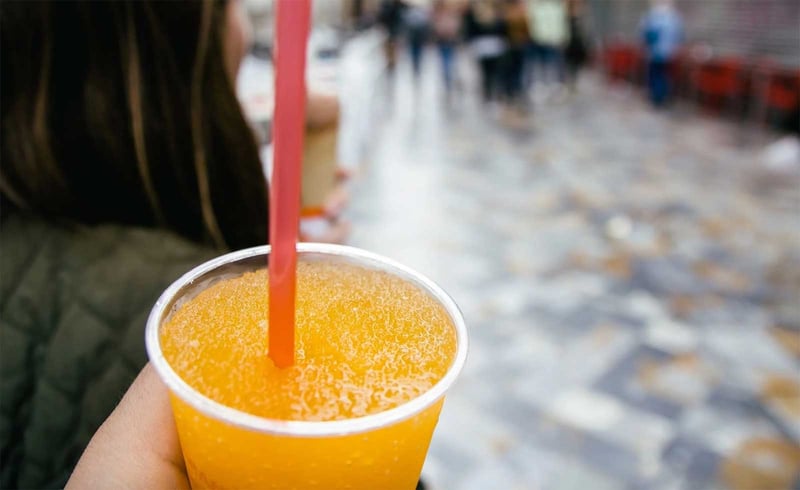 Frozen uncarbonated beverages (FUBs) offer a smooth, creamy texture perfect for drinks like frappes, milkshakes, smoothies, and frozen cocktails. They are made using a similar process to frozen carbonated beverages, but without the addition of pressurized CO₂. This results in a thicker texture similar to ice cream, instead of as icy or slushy as FCBs.
Examples of popular FUBs include:
Frappuccinos (Starbucks)
Frozen Mocha (Dunkin' Donuts)
Frozen Strawberry Daiquiri (Chili's)
Smoothies and Shakes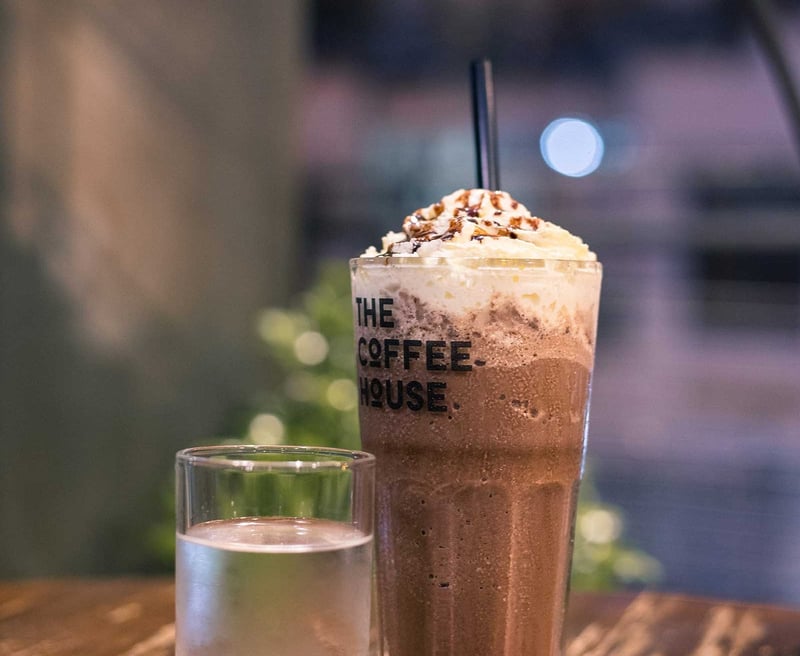 While slushies and frappes are popular, many customers may prefer something creamier or healthier. That's where smoothies and shakes come in. Made with fresh fruits, vegetables, and other healthy ingredients, these drinks are a great way to offer a healthier option on your menu.
Smoothies have been growing in popularity for years, and for a good reason. They're a great way to pack plenty of vitamins and nutrients in one delicious drink. With the right blender and ingredients, you can create a smoothie that's both healthy and delicious.
One benefit of offering smoothies and shakes is that they're incredibly customizable. You can offer a variety of base flavors, such as banana, strawberry, or blueberry, and allow customers to choose from a selection of add-ins, such as spinach, kale, or protein powder. This makes it easy to cater to various dietary needs and preferences. You may also want to consider using fresh or frozen fruit instead of fruit juice to keep the sugar content low and the nutritional value high.
While smoothies offer a healthier option, shakes are a delicious indulgence that many customers can't resist. Made with ice cream or frozen yogurt, shakes are a sweet treat that can be customized to fit any flavor preference.
One of the benefits of offering shakes is that they're incredibly versatile. You can offer classic flavors like vanilla and chocolate or get creative with unique combinations like cookie dough, salted caramel, or peanut butter and jelly. You can also provide different toppings like whipped cream, chocolate sauce, or sprinkles to take your shakes to the next level.
When it comes to making shakes, it's essential to invest in a high-quality blender or shake machine. These machines are designed to blend ice cream and other ingredients to create a smooth and creamy consistency. You'll also want to offer a variety of ice cream or frozen yogurt flavors to cater to different tastes.
Frozen Nitro-Infused Drinks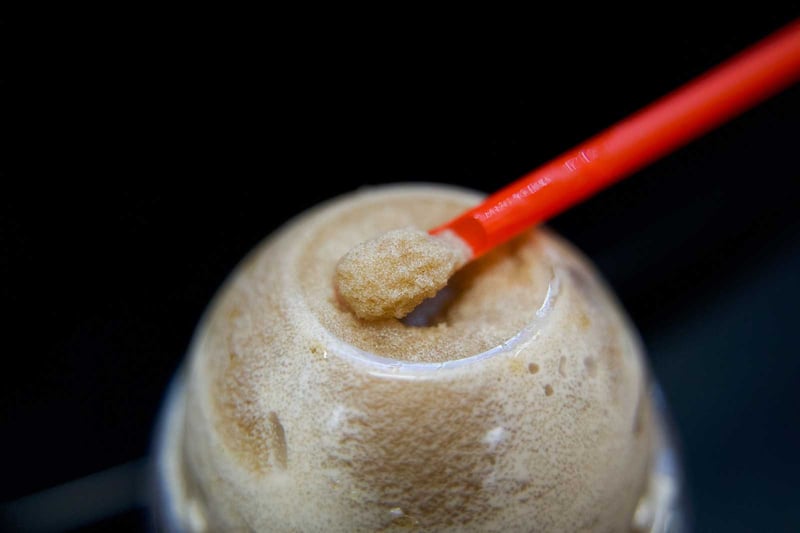 Nitro-infused drinks, also known as Nitro Frozen Beverages or Nitro-Frozen Drinks, are a relatively new addition to the frozen drink category. These beverages are made by infusing a cold beverage, such as coffee or tea, with nitrogen gas while it's being frozen.
The result is a smooth and creamy texture, similar to that of a milkshake, but without any dairy products, often making them lower in calories and sugar than traditional frozen drinks. The nitrogen gas creates tiny bubbles in the drink, giving it a rich and creamy consistency similar to ice cream.
Nitro-Frozen Drinks can be made with various ingredients, such as coffee, tea, fruit, or even alcohol. The use of nitrogen gas also makes the drinks more visually appealing, as the tiny bubbles create a cascading effect when poured. Examples of popular nitro-infused drinks include nitrogen coffees, teas, and beers. They are the perfect choice for customers looking for something unique and flavorful!
Frozen cocktails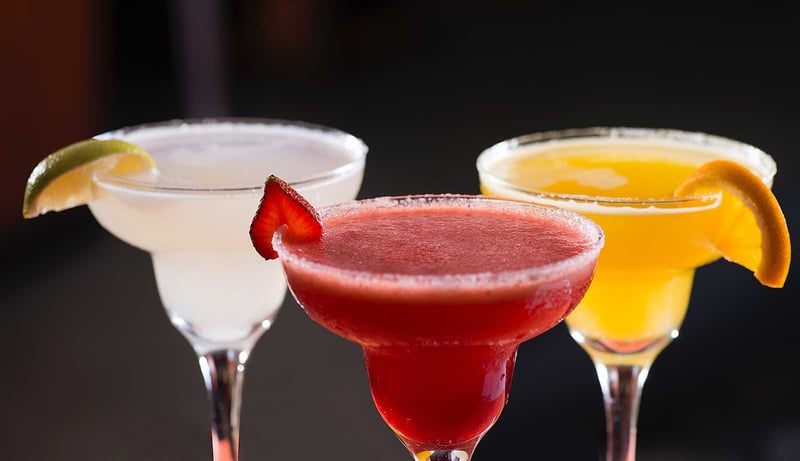 Frozen cocktails are a type of alcoholic beverage blended with ice to create a slushy, frozen texture. They are a popular choice for summertime and tropical-themed parties and are often served in specialty glasses with colorful garnishes. With low costs, premium pricing, and minimal upkeep, frozen alcoholic beverages may be the perfect fit for your business.
Some popular frozen alcoholic drinks include:
Piña colada: A classic tropical cocktail made with rum, coconut cream, and pineapple juice.
Margarita: A refreshing cocktail made with tequila, lime juice, and orange liqueur.
Daiquiri: A simple and classic cocktail made with rum, lime juice, and sugar.
Frozen mudslide: A creamy and indulgent cocktail made with vodka, coffee liqueur, Irish cream, and vanilla ice cream.
Blue Hawaiian: A vibrant and fruity cocktail made with rum, blue curaçao, pineapple juice, and coconut cream.
When making frozen cocktails, it's important to use plenty of ice to achieve the desired texture. Many pre-mixed beverage products come with alcohol already mixed in, so all you have to do is put it in a dispenser – no need to mix any recipes. You can also experiment with different types of alcohol and mixers to create your own unique creations. Don't forget to garnish your cocktails with fresh fruit, herbs, or colorful straws for a festive touch.
Start Your Frozen Beverage Program Today!
With FBD's Frozen Beverage Program, starting your own frozen beverage business has never been easier. With over two decades of experience, FBD has helped countless large and small businesses introduce frozen drinks to their customers.
To get started with your own Frozen Beverage Program, simply schedule a call with our expert team. During the call, our representatives will:
Recommend the ideal products for your business's specifications
Identify the right equipment and customization options
Provide an operations implementation plan, including labor, maintenance, and savings estimates
Develop a detailed operations implementation plan, including unit setup and maintenance
Our team will continue working hand-in-hand with you throughout the process to design a profitable frozen beverage program – regardless of your capacity, footprint, or local market.
With over 532 unique equipment configurations, FBD can find the perfect setup for any sized convenience store or business anywhere in the country. And with FBD's support, you can develop a detailed operations implementation plan, including unit setup and maintenance, to ensure the success of your frozen beverage program.
So why wait? Click here to learn more about the opportunities offered in FBD's Frozen Beverage Program, and start delighting your customers with delicious frozen drinks today.